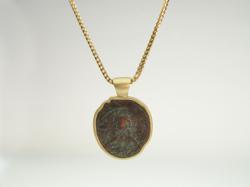 The rough, crude texture of the ancient coins goes well with our jewelry designs, which often have a hammered matte texture. Rose gold with a bronze coin is an especially nice combination
San Francisco, CA (PRWEB) September 03, 2011
Union Street Goldsmith in San Francisco is announcing its new collection of handmade jewelry with ancient coins used as a great accent. These ancient coins look valuable and elegant and create a beautiful centerpiece in the middle of the fine, hand-fabricated custom jewelry designs created by Union Street.
"The rough, crude texture of the ancient coins goes well with our jewelry designs, which often have a hammered matte texture. Rose gold with a bronze coin is an especially nice combination," said Summer Anderson, Union Street Goldsmith Gemologist.
Union Street Goldsmith is very happy to offer this precious ancient coin jewelry wherein every piece offers a unique and beautiful design. The jewelry comes in different designs and a range of prices and comes with a certificate of authentication to prove that the rare ancient coins are indeed authentic. This allows customers to have peace of mind that they are paying the proper price.
Union Street Goldsmith can also customize jewelry pieces by using loose coins or customers can opt to bring something in to have placed into a set.
Union Street has a large collection of men's coin jewelry, including cufflinks. With this new collection, the value of coins can now be appreciated not only as a currency, but also as a design for jewelry, making it look more valuable and stylish.
For more information about Union Street Goldsmith, call 415-658-9315 or visit their website at http://www.unionstreetgoldsmith.com.
About Union Street Goldsmith
Union Street Goldsmith is a custom jewelry store located in the Marina of San Francisco. Our collections are fresh, contemporary, creative and fun. Union Street Goldsmith specializes in engagement rings, diamond rings, wedding bands, 22 karat gold, platinum, pearl necklaces and jewelry repair.
###