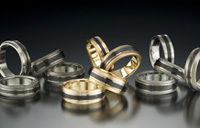 My husband and I both wear titanium bands made by Jerry and truly love them. They are super comfortable, lightweight and durable
San Francisco, CA (PRWEB) September 17, 2011
Union Street Goldsmith, located in San Francisco, a custom jewelry store, is offering a new selection of Jerry Spaulding wedding band designs. The new bands have been available since Sept. 5, and clients can visit the store to see these beautiful pieces.
"My husband and I both wear titanium bands made by Jerry and truly love them. They are super comfortable, lightweight and durable. I wear mine as an alternative to my Union Street Goldsmith Sapphire ring when I don't want to damage it," said Summer Anderson, GIA graduate gemologist.
Union Street Goldsmith has been carrying Jerry Spaulding designs for years, and now the store is adding Jerry's new designs to the collection. His designs, unique yet simple and comfortable, are loved by both men and women. Jerry's designs are usually titanium, or titanium combined with other metals, which is a fraction of the price of platinum or white gold. The new collection available at Union Street features Jerry's new design of Lignum Vitae (wood) inlayed in titanium. There are also other designs available including stainless steel; carbon fiber; 14kt rose, white and yellow gold; and 18kt gold. These handmade bands are something everyone would surely love to have.
For more information about Union Street Goldsmith, call 415-658-9315, visit http://www.unionstreetgoldsmith.com or stop by their store located at 1909 Union St. in San Francisco.
About Union Street Goldsmith
Union Street Goldsmith is a San Francisco custom jewelry store that specializes in engagement rings, diamond rings, wedding bands, 22kt gold, platinum, pearl necklaces and jewelry repair. Glenda Queen and Terry Brumbaugh founded Union Street Goldsmith in the Marina District of San Francisco in 1976. They have been jewelers so long that they are now creating engagement rings and wedding bands for the children of couples whose rings they made decades ago.
###