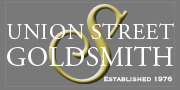 "I am excited about the upcoming Gurhan Trunk Show so I can see all of the new designs
San Francisco, CA (PRWEB) November 19, 2011
Union Street Goldsmith, a San Francisco custom jewelry store will be hosting their Gurhan Trunk Show for one day only on Saturday, December 17.
Gurhan designs feature a wide range of one-of-a-kind pieces. It has new designs including a new blackened silver line that will amaze customers. It also features the new fine silver pieces sold at affordable prices in addition to its new and classic 24kt gold pieces. Gurhan has always been a fashion-forward designer and his pieces are so unique that they can be recognized by anyone who is familiar with his work. With these great pieces for sale at the one day trunk show at Union Street Goldsmith customers are sure to find great holiday gifts in a variety of price ranges.
"I am excited about the upcoming Gurhan Trunk Show so I can see all of the new designs. It will be perfect for Christmas shopping. I have several Gurhan pieces and I get complimented on them constantly," said a satisfied Union Street Goldsmith customer.
For more information on Union Street Goldsmith, call (415) 658-9315 or visit them online at http://www.unionstreetgoldsmith.com. Union Street Goldsmith is located at 1909 Union Street, San Francisco, CA 94123.
About Union Street Goldsmith
Union Street Goldsmith is a San Francisco custom jewelry store that offers quality engagement rings, diamond rings, wedding bands, 22kt gold, platinum, pearl necklaces and jewelry repair. Glenda Queen and Terry Brumbaugh founded Union Street Goldsmith in the Marina District of San Francisco in 1976. They have been jewelers so long that they are now creating engagement rings and wedding bands for the children of couples whose rings they made decades ago.
Union Street Goldsmith also offers appraisal services by a GIA-certified gemologist. They offer insurance appraisals, insurance appraisal updates, verbal appraisals and estate appraisals. An appointment is required for these services.
###