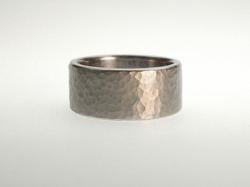 Palladium, titanium and stainless steel make great wedding bands and we have the best design selection around.
San Francisco, CA (PRWEB) December 20, 2011
With gold and platinum prices on the rise, alternative metals have become popular choices for wedding bands. Union Street Goldsmith, a San Francisco custom jewelry store, now offers a large collection of wedding bands made of contemporary metals.
"Palladium, titanium and stainless steel make great wedding bands and we have the best design selection around," says Glenda Queen of Union Street Goldsmith.
Palladium is a precious metal from the platinum family at a fraction of the cost. It is a pure white metal like platinum and therefore will not yellow with time like white gold does. Union Street Goldsmith can make any wedding band designs using this beautiful precious metal.
Titanium is very inexpensive, durable and super lightweight. It is an excellent ring choice for men and women who are very active, or as an alternative wedding band for travel. Union Street Goldsmith has a huge collection of titanium wedding bands from designer Jerry Spaulding. The rings are hand lathed, and can be customized. Many are combined with other metals like yellow or rose gold. The collection also contains titanium combined with carbon fiber and even very strong woods.
Stainless steel is another lightweight affordable option. Some of the designs include a black finish.
"My husband had a bout of anxiety over choosing the perfect ring. He felt he had to choose in one visit but Kathleen walked him through all the different styles and told him to really think about what he'd prefer. We returned the next week and the hubby loves his ring," customer 5 star review on Yelp.
"The entire staff is always welcoming. Union Street Goldsmith is superior in both quality and customer service. Through this experience we learned that finding the right jeweler is key to finding the right rings," comments Jessie S., a satisfied Union Street Goldsmith customer.
The store also has an excellent selection of Platinum, 14kt white and rose gold, and 18kt, 22kt and even 24kt yellow gold.
For more information on Union Street Goldsmith, call 415-658-9315 or visit their website at http://www.unionstreetgoldsmith.com. Union Street Goldsmith is located at 1909 Union Street in San Francisco.
About Union Street Goldsmith
Union Street Goldsmith is a San Francisco custom jewelry store that specializes in engagement rings, diamond rings, wedding bands, 22kt gold, platinum, pearl necklaces, and jewelry repair. Glenda Queen and Terry Brumbaugh founded Union Street Goldsmith in the Marina District of San Francisco in 1976. They have been jewelers so long that they are now creating engagement rings and wedding bands for the children of couples whose rings they made decades ago.
Union Street Goldsmith also offers appraisal services by a GIA certified gemologist. They offer insurance appraisals, insurance appraisal updates, verbal appraisals and estate appraisals. Clients can sit and wait during the appraisals or leave the pieces and come back when the service is finished. An appointment is needed for all of these services.
###