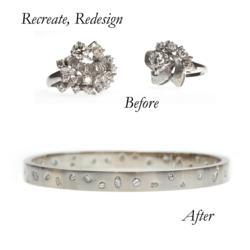 The price of diamonds and colored gemstones has gone up significantly in recent years
San Francisco, CA (PRWEB) January 17, 2012
The New Year is the perfect time to redesign and reset old jewelry that has just been sitting unused in a jewelry box, and San Francisco's custom jewelry store, Union Street Goldsmith offers to help customers update old or broken jewelry with contemporary, fresh designs.
"The price of diamonds and colored gemstones has gone up significantly in recent years," Summer Anderson of Union Street Goldsmith said. "So why not create something you will love and wear with the remake of inherited, outdated or worn-out jewelry? Union Street Goldsmith can help you create beautiful new jewelry at a fraction of the price, using gem materials you already have."
Union Street Goldsmith has been designing jewelry and customized pieces for more than 35 years. Clients may bring in old jewelry or loose diamonds and colored stones for a free design consultation. All work is completed by hand and in-house, so clients are assured of their jewelry's safety.
Clients may choose a design that Union Street Goldsmith already makes or request a custom design; either way, Union Street Goldsmith does not charge extra for a setting simply because a client provided the gems. The jewelry store works with platinum, 14-karat rose gold, 14-karat white gold, and 14-karat, 18-karat and 22-karat yellow gold, as well as palladium.
For more information about Union Street Goldsmith, call 415-658-9315, view the company on the web at http://www.unionstreetgoldsmith.com or visit its store at 1909 Union St. in San Francisco.
About Union Street Goldsmith
Union Street Goldsmith is a San Francisco custom jewelry store that specializes in engagement rings, diamond rings, wedding bands, 22-karat gold, platinum, pearl necklaces and jewelry repair. Glenda Queen and Terry Brumbaugh founded Union Street Goldsmith in the Marina District of San Francisco in 1976. They have been jewelers for so long that they are now creating engagement rings and wedding bands for the children of couples whose rings they made decades ago.
###