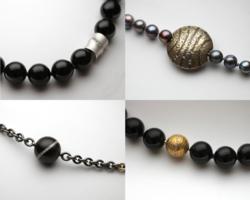 My clients love the Vario collection because of the versatility
San Francisco, CA (PRWEB) January 24, 2012
Union Street Goldsmith, a San Francisco custom jewelry store, continues to feature fresh new styles with the arrival of a new selection of interchangeable Vario clasp pendants.
The Vario clasp system allows the stylish clasp or pendant to be removed from the necklace so that it can be used on others. To put the stylish clasps on, Union Street Goldsmith offers chains, pearls, gemstone beads and even rubber necklaces. Clients can also have Union Street Goldsmith convert a strand of their pearls or beads to work with the Vario design.
"My clients love the Vario collection because of the versatility. You can go from a casual business meeting to a formal night out with the change of a clasp," said Terry Brumbaugh, senior gemologist at Union Street Goldsmith.
The clasps are not meant to hide in the back; they are worn in the front, either centered or off center. They can completely change the look of pearls or beads, and because they are removable, they are also very versatile. The new selection includes stainless steel, rose, white and yellow gold, and rubber. Some Vario claps come with diamonds and some without.
For more information about Vario Clasp Pendants or any of Union Street Goldsmith's products or services, call 415-658-9315, view the company on the web at http://www.unionstreetgoldsmith.com or visit 1909 Union St. in San Francisco.
About Union Street Goldsmith
Union Street Goldsmith is a San Francisco custom jewelry store that specializes in engagement rings, diamond rings, wedding bands, 22-karat gold, platinum, pearl necklaces and jewelry repair. Glenda Queen and Terry Brumbaugh founded Union Street Goldsmith in the Marina District of San Francisco in 1976. They have been jewelers so long that they are now creating engagement rings and wedding bands for the children of couples whose rings they made decades ago.
Union Street Goldsmith also offers appraisal services by a GIA certified gemologist. They offer insurance appraisals, insurance appraisal updates, verbal appraisals and estate appraisals. Clients can sit and wait during the appraisals or leave the pieces and come back when the service is finished. An appointment is needed for all of these services.
###