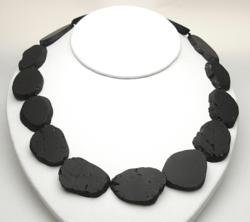 Our new selection of chunky gemstone beads are hip and very unique
San Francisco, CA (PRWEB) February 28, 2012
Union Street Goldsmith, a San Francisco custom jewelry store offering engagement rings and diamond rings, just added a new selection of chunky gemstone bead necklaces at its store in the Marina District of San Francisco.
"Our new selection of chunky gemstone beads are hip and very unique. They can be worn just as easily with jeans as they can with a black tie outfit," designer Glenda Queen said.
Since chunky gemstone beads are currently a hot fashion item, Union Street Goldsmith offers a selection of the trend in many different colors, shapes and designs, as well as with precious metal beads.
Its selection of chunky bead necklaces includes rough-cut Parabia Tourmaline, Black Troumaline slabs, Tumbled Lavender Chalcedony, Cubed Pyrite with Slate and Pink Topaz Briolettes. Some of the necklaces feature unique beads in high-carat gold or white gold. Union Street Goldsmith also strings beads in-house and can always change the design or length of the necklace to suit the customer. It also restrings bead necklaces that have become stretched, need a different length, or require a different look through adding other design elements.
"Union Street Goldsmith stays fashion forward by continually offering new pieces," Queen said. "If we don't have a certain type of gemstone bead that a customer is interested in, we will get in a selection for them to choose from."
For more information about the chunky gemstone bead necklaces or any of Union Street Goldsmith's products or services, call 415-658-9315, view the jewelry store on the web at http://www.unionstreetgoldsmith.com or visit 1909 Union St. in San Francisco.
About Union Street Goldsmith
Union Street Goldsmith is a San Francisco custom jewelry store that has specialized in engagement rings, diamond rings, wedding bands, 22-karat gold, platinum, pearl necklaces and jewelry repair for more than 35 years. Glenda Queen and Terry Brumbaugh founded Union Street Goldsmith in the Marina District of San Francisco in 1976. They have been jewelers for so long that they are now creating engagement rings and wedding bands for the children of couples whose rings they made decades ago.
###