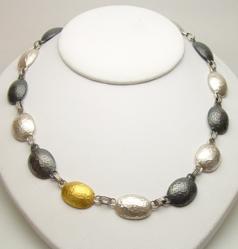 Gurhan is always coming out with gorgeous new designs, and we like to be able to offer them to our clients as they are introduced to his lines
San Francisco, CA (PRWEB) March 17, 2012
Union Street Goldsmith a San Francisico custom jewelry store is announcing the availability of Gurhan's new collection of couture silver and 24-karat gold jewelry. Gurhan is a top jewelry designer from Turkey who makes custom design jewelry for A-list celebrities, as well as memorable engagement rings for clients.
"Gurhan is always coming out with gorgeous new designs, and we like to be able to offer them to our clients as they are introduced to his lines," designer Glenda Queen said. "Gurhan is a leader in both the fine jewelry and fashion worlds by creating innovative pieces made with sterling silver and gold."
These stylish new pieces are from the sterling silver and 24-karat gold line, which are a part of his brand new "Elements" collection. The hip designs include bracelets, earrings and necklaces at a fraction of the price of his all 24-karat gold pieces.
"These new designs by Gurhan are a must see. The rich color of the 24-karat gold is a beautiful contrast with the sterling silver, and some of the jewelry designs even include blackened sterling silver," Queen said.
For more information about the new designs by Gurhan or any of Union Street Goldsmith's products or services, call 415-658-9315, view the jeweler on the web at http://www.unionstreetgoldsmith.com or visit 1909 Union St. in San Francisco.
About Union Street Goldsmith
Union Street Goldsmith is a San Francisco custom jewelry store that specializes in engagement rings, diamond rings, wedding bands, 22-karat gold, platinum, pearl necklaces and jewelry repair. Glenda Queen and Terry Brumbaugh founded Union Street Goldsmith in the Marina District of San Francisco in 1976. They have been jewelers so long that they are now creating engagement rings and wedding bands for the children of couples whose rings they made decades ago.