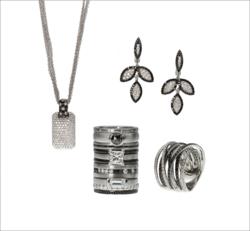 We have a huge selection of black and white diamond jewelry, including strands of faceted black diamond beads in different sizes and lengths
San Francisco, CA (PRWEB) May 26, 2012
San Francisco custom jewelry store, Union Street Goldsmith, offering a variety of jewelry collections, as well as custom jewelry for men and women, is excited to offer a new jewelry collection inspired by the Black and White Ball, which will occur on June 2. This collection features black and white diamond stones that have a classic and timeless look, and fancy pave designs and modern pieces with hammered or matte finishes.
"We have a huge selection of black and white diamond jewelry, including strands of faceted black diamond beads in different sizes and lengths. This is a must-have look that goes with every outfit," Summer Anderson, graduate gemologist at Union Street Goldsmith, said.
Black and white jewelries complement almost any attire, and the beautiful and sophisticated designs of the diamond stones are perfect for the Black and White Ball and other occasions.
The new designs of the black and white diamond jewelry collection are both stylish and versatile. With more than 20 black and white diamond rings for women to choose from, Union Street Goldsmith features the best collection in San Francisco.
"As well as black diamonds, we have new jewelry made of black Gem Ceramic, which is a very durable material that has become very popular in jewelry and watches," Anderson said.
Union Street Goldsmith also offers customized designs, ensuring a collection that is even more unique, endless and one of a kind.
For more information about the jewelry collection or any of Union Street Goldsmith's products or services, call 415-658-9315, view the custom jewelry store on the Web at http://www.unionstreetgoldsmith.com or visit 1909 Union St. in San Francisco.
About Union Street Goldsmith
Union Street Goldsmith is a San Francisco custom jewelry store that specializes in engagement rings, diamond rings, wedding bands, 22-karat gold, platinum, pearl necklaces and jewelry repair. Glenda Queen and Terry Brumbaugh founded Union Street Goldsmith in the Marina District of San Francisco in 1976. They have been jewelers so long that they are now creating engagement rings and wedding bands for the children of couples whose rings they made decades ago.