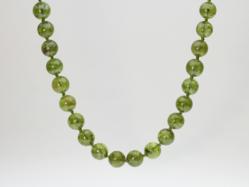 We've always kept an amazing collection of bead necklaces, and we string them ourselves adding our own design elements to make them even more unique
San Francisco, CA (PRWEB) July 20, 2012
Always featuring fresh, contemporary and creative collections and custom jewelry, San Francisco's Union Street Goldsmith is now offering a unique collection of fine gemstone beads that were recently shown at the Gem and Jewelry Show in Las Vegas.
"We've always kept an amazing collection of bead necklaces, and we string them ourselves adding our own design elements to make them even more unique. We're also happy to customize them to the customer's liking," Glenda Queen, Union Street Goldsmith, said.
Among the collection of beads is a very interesting strand of azure malachite beads, with each bead featuring the unique feeling of looking at a little world of colors. Union Street Goldsmith's gemmy green peridot is another option. It is a unique gemstone that only occurs in an olive green color.
Additional beads now available are the rare tanzanite beads with a beautiful rich tone in a 19-inch strand, the vivid orange Hessonite beads and Ethiopian opals. These collections are both fashionable and great for everyday wear. They are also very colorful, featuring vibrant yellows, greens and oranges that symbolize a summer season filled with exciting and fun activities. They will make the perfect summer accessory.
For more information about the new arrivals or any of Union Street Goldsmith's products or services, call 415-658-9315, view the diamond ring store on the Web at http://www.unionstreetgoldsmith.com or visit 1909 Union St. in San Francisco.
About Union Street Goldsmith
Union Street Goldsmith is a San Francisco custom jewelry store that specializes in engagement rings, diamond rings, wedding bands, 22-karat gold, platinum, pearl necklaces and jewelry repair. Glenda Queen and Terry Brumbaugh founded Union Street Goldsmith in the Marina District of San Francisco in 1976. They have been jewelers so long that they are now creating engagement rings and wedding bands for the children of couples whose rings they made decades ago.