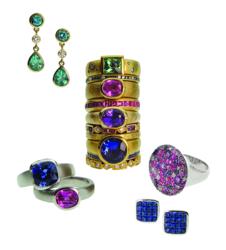 Sapphires are a perfect gift for that September birthday, but they are also ideal for a unique engagement ring
San Francisco, CA (PRWEB) August 11, 2012
Sapphire is the birthstone for September and in celebration of that, a new and handmade sapphire jewelry collection will be arriving at San Francisco's custom jewelry store, Union Street Goldsmith. Clients can show their loyalty and commitment--the meaning of the sapphire--to their significant other with a lovely sapphire ring or pendant. These gorgeous gemstones are a great colored stone option for everyday wear because of how hard they are.
"Sapphires are a perfect gift for that September birthday, but they are also ideal for a unique engagement ring. My sapphire wedding set, designed by Glenda Queen, gets compliments all the time on its beautiful color and original design," Summer Anderson, graduate gemologist of Union Street Goldsmith, said.
Union Street Goldsmith's huge collection of sapphire jewelry covers price ranges from about $350 up to $20,000. The sapphires come set in platinum; rose, white and yellow gold; or sterling silver.
"We are also happy to make you a custom sapphire piece or reset your sapphires into a new design that you will love," Anderson said.
Sapphires are most commonly known for their beautiful blue hews, but they are also available in almost every other color or colorless. A little known fact about sapphire is that it is structurally and chemically the same gemstone as Ruby. They are both a very durable mineral named corundum.
For more information about any of Union Street Goldsmith's products or services, call 415-658-9315, view the diamond ring store on the Web at http://www.unionstreetgoldsmith.com or visit 1909 Union St. in San Francisco.
About Union Street Goldsmith
Union Street Goldsmith is a San Francisco custom jewelry store that specializes in engagement rings, diamond rings, wedding bands, 22-karat gold, platinum, pearl necklaces and jewelry repair. Glenda Queen and Terry Brumbaugh founded Union Street Goldsmith in the Marina District of San Francisco in 1976. They have been jewelers so long that they are now creating engagement rings and wedding bands for the children of couples whose rings they made decades ago.