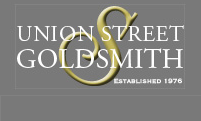 When we clean your pieces, we also look for any problems or loose stones to prevent you from loosing a gemstone or the whole piece of jewelry
San Francisco, CA (PRWEB) August 12, 2012
Regularly cleaning fine jewelry, such as diamond rings and custom jewelry, not only keeps jewelry pieces looking brilliant and beautiful, but also helps with longevity as abrasive dirt can eventually wear down metals. For this reason, San Francisco's Union Street Goldsmith recommends having jewelry professional cleaned at least twice a year and offers free jewelry cleaning with an industrial-strength ultrasonic and steam cleaner.
"When we clean your pieces, we also look for any problems or loose stones to prevent you from loosing a gemstone or the whole piece of jewelry," Summer Anderson, graduate gemologist of Union Street Goldsmith, said.
Diamonds, in particular, have an affinity for grease, so every time an oily hand touches the stone, it dulls a bit. Washing hands with the jewelry on will also deposit soap residue and dull the stones. In addition, some people develop a rash under their rings and assume it is an allergic reaction when it is often due to build up that could be avoided with regular cleaning.
It is also important to clean jewelry at home in between professional cleanings; however, unlike popular belief, toothpaste is not the answer. Toothpaste has an abrasive texture, and can scratch or dull fine jewelry and engagement rings.
"In between your professional cleanings you should also clean your jewelry regularly at home. A good way to do this is with a basic jewelry cleaning solution, which we do sell here for $10, or hot water and ammonia with a soft bristle toothbrush. Then rinse under hot, but not boiling, water and lay on a paper towel to dry. Do not soak soft or porous stones like opals, emeralds and pearls, nor anything strung or glued. If in doubt, call us or stop by. We're happy to answer any questions you have," Anderson said.
Certain gems, including pearls, take extra care to clean and cannot be placed in ultrasonic. Union Street Goldsmith also does not clean silver or watches.
For more information about any of Union Street Goldsmith's products or services, call 415-658-9315, view the diamond ring store on the Web at http://www.unionstreetgoldsmith.com or visit 1909 Union St. in San Francisco.
About Union Street Goldsmith
Union Street Goldsmith is a San Francisco custom jewelry store that specializes in engagement rings, diamond rings, wedding bands, 22-karat gold, platinum, pearl necklaces and jewelry repair. Glenda Queen and Terry Brumbaugh founded Union Street Goldsmith in the Marina District of San Francisco in 1976. They have been jewelers so long that they are now creating engagement rings and wedding bands for the children of couples whose rings they made decades ago.