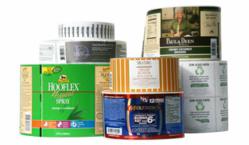 Longwood, FL (PRWEB) January 29, 2013
Consolidated Label Company, a leading manufacturer of custom labels in the United States, has created a guide to assist consumers when designing a logo for custom labels. The guide discusses topics such as what makes a logo successful and why having an effective logo on a custom label is so beneficial for branding and consumer purchases.
"There are many factors that go into making an effective logo but in our experiences, there are certain characteristics for it to succeed, particularly on custom labels," said Joel Carmany, president of Consolidated Label. These characteristics combine design and marketing principles that Consolidated Label has found in over 25 years in business to make a successful logo.
An effective logo should include the following guidelines:
Keep it Simple - Busy or complex logos can distract the consumer.
Make it Memorable - A logo is more likely to be recognized if it has an interesting element like a unique shape, color, or typeface.
Versatility is Key - A logo is easier to work with if it looks good across different mediums: black & white, color, big or small scale.
Preserving through the years - Trends come and go but your logo shouldn't be one of them. A simple design is more likely to last through the decades than a trendy logo.
Make Sure it is Appropriate - Your logo should be able to symbolize your company and fit within your industry.
"A logo is a quintessential business tool to build brand recognition. Logos on labels are a quick way to build trust for customers who are unfamiliar with your product," Carmany adds. "A customer makes his or her purchase decision in mere seconds so your logo needs to instantly communicate who the company is before the customer walks away."
The guide discusses how a logo that is poorly designed or not well thought out can cost a company thousands or more dollars on marketing material and custom labels. Carmany noted that an ineffective logo can also waste time and money because eventually the company will have to go back and start the process all over again.
To view the complete guide, visit
http://www.consolidatedlabel.com/blog/2013/1/25/what-makes-a-good-logo-on-custom-labels/
About Consolidated Label:
Founded in 1981, Consolidated Label is one of the country's leading suppliers of custom labels, flexible packaging and shrink sleeves. The company produces custom labels and packaging for thousands of customers across a wide variety of industries including food, beverage, household products, medical, pharmaceutical, and promotional products.
For more information, visit http://www.consolidatedlabel.com