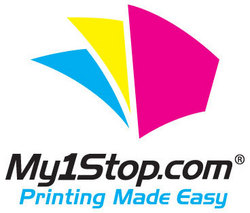 We went customer-first with custom labels by expanding our award winning product information approach and pricing pages into our custom labels offering
Fort Scott, KS (PRWEB) October 30, 2009
My1Stop.com® expanded its commitment to being the leading online - and offline - supplier of custom labels with the launch of new pricing tools and more in-depth product information. The custom label product enhancements provide customers with a more intuitive approach to pricing and ordering prime labels from the site. Products included in the enhanced design include asset tags, digital labels, product labels and packaging labels. Customers can experience the site upgrades at My1Stop.com.
The addition of an intuitive instant pricer, one-click access to relevant product specifications and details, along with new page designs, are consistent with the company's award winning site design. "Our customer-first approach to custom labels makes researching, pricing and ordering custom labels faster and easier work for our customers," said Michael Del Chiaro, company president. "We went customer-first with custom labels by expanding our award winning product information approach and pricing pages into our custom labels offering," continued Del Chiaro. "This gives our customers instant online access to the product details that they want to select and attributes for their unique custom label pricing, and of course, our customer service team which is always just a toll free call, instant chat or email away," concluded Mr. Del Chiaro.
In addition to the new, user-friendly custom labeling product tools, My1Stop.com offers a full line of eco-friendly products such as presentation folders, brochures, flyers, and postcards. As well, there are a variety of specialty items such as biodegradable pens and seed paper business cards. As part of their green printing services, they also offer PDF proofs which saves dramatically on paper usage. My1Stop.com will be expanding its line further in the future by offering even more eco-friendly products and green printing services.
My1Stop.com®'s commitment to customer first solutions, online or off line, is backed by Web Marketing Association for web design awards in 2009, 2008 and in 2006. This successful philosophy is measured by the company in terms of the number of intensively loyal customers they have cultivated. Outside the company, the success of My1Stop.com® was measured, and rewarded, in 2009 by Inc.5000 as one of the fastest growing, privately held businesses in North America.
My1Stop.com® offers the most innovative, customer-first custom label solutions online or off line. We look forward to seeing you in our improved custom labels aisle, soon.
My1Stop.com®, America's Online Printing Superstore.
Michael Del Chiaro
President
My1Stop.com®
1-800-691-7867
###