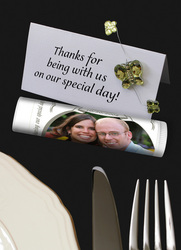 After supplying the end destination resort markets with custom lip balm for over 10 years, we are delighted to offer this unique, custom, four color photographic process to the wedding market in much smaller quantity runs
Arvada, CO (PRWEB) January 23, 2009
Just in time for the spring wedding season, Rocky Mountain Sunscreen introduces a new and unique wedding favor that guests can actually use: personalized lip balm featuring a photograph commemorating the special day. This custom lip balm is a practical gift featuring the couple's name, wedding date, and a special photograph on the body of the lip balm and the event's special message along the cap.
The Rocky Mountain Sunscreen website, visible online at RMSunscreen.com, allows the customer to create the custom lip balm by choosing from and viewing online a wide variety of designs and colors. Some of the available designs include wedding bells and gold and silver rings. If the photograph option is selected, the customer receives a PDF proof for approval once the image is submitted. At that point, the customer can verify the accuracy of the submitted information and see a final copy of what their personalized lip balm will look like.
"After supplying the end destination resort markets with custom lip balm for over 10 years, we are delighted to offer this unique, custom, four color photographic process to the wedding market in much smaller quantity runs," said Rocky Mountain Sunscreen President and Founder David Erickson. Some of the available designs include wedding bells and gold and silver rings.
Currently, Rocky Mountain Sunscreen offers customized lip balm bulk sales in small quantities, with minimums as low as 100 units. The high quality custom lip balm is manufactured in an FDA certified facility, and takes approximately four to five weeks to complete.
Mr. Erickson added, "Our goal has been to offer something totally unique and different from today's current wedding favor products. The ability to place the couple's favorite photograph and statement on a great tasting, high quality lip balm in a small quantity run accomplishes this goal. This is a gift that will last long after the wedding event concludes."
Rocky Mountain Sunscreen also offers a wide array of sun protection products in addition to their lip balms, including fragrance free sunscreen. For more information on the full product line, or to begin the wedding favor customization process, visit Rocky Mountain Sunscreen.
About Rocky Mountain Sunscreen:
Rocky Mountain Sunscreen is located in Arvada, CO, and has been manufacturing quality sun protection products for longer than 15 years. Their line of sunscreen lotions and lip balm products has protected customers all across the world. Rocky Mountain Sunscreen is proud to be the Official Sunscreen and Lip Balm of such fabulous resorts as Vail, Beaver Creek, Breckenridge, Keystone, and Telluride.
# # #