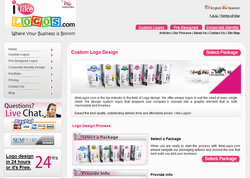 New York, NY (Vocus) February 27, 2010
Ilikelogos.com launches five commercial logo design packages built to adapt to different budgets.
On an effort to attract a broader audience, ilikelogos.com's design team created five commercial logo design packages. These were meant to provide corporate identity solutions to traditional companies that want an image makeover or new businesses that want to place their products and services on the map.
The four main packages of this new design offer (Promotion, Freshmen, Sophomore and Junior) were planned with different kinds of companies in mind. Each of them has a number of graphic proposals, corrections and formats that can be adjusted to a company's marketing budget, regardless of its size.
The Pre-Designed Logo package offers a quick, affordable corporate image solution for newcomers that need a logotype but cannot afford to buy a complete custom design package. It includes a number of changes and customizations that can be applied to personalize a pre-designed logo to meet your company's needs.
Ilikelogos.com has an immense portfolio of custom logos designed for several companies, complemented by a massive selection of pre-designed logos. A team of expert designers provides their know-how and unbeatable customer service in order to create and launch memorable corporate identities.
For more information about these logo design packages or corporate identity solutions, please visit http://www.ilikelogos.com.
###