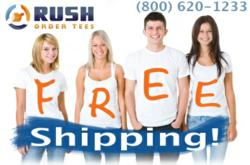 It will revolutionize the custom printed shirts industry.
Philadelphia, PA (PRWEB) February 01, 2012
If you haven't yet heard or seen (Watch Video: Direct to Garment Printing) there's a new and exciting technology in custom printed shirts. It's called Direct to Garment printing or DGT for short. The industry is abuzz about this groundbreaking tech that allows makers of custom printed shirts to print digital images on virtually any fabric with vibrant full color - and might I add..."breathtaking" results!
Rush Order Tees has invested in the newest and most advanced printer and programs to offer digital direct to garment printing to both business customers and consumers.
Ron Reed, Rush Order Tees VP of Marketing, noted, "This technology - and specifically the process we invested in - yields incredibly impressive results; It will revolutionize the custom printed shirts industry." Mr Reed noted, "A video highlighting the process was posted just days ago and we've already had customers requesting this method for their designs. The colors and vibrancy are simply stunning."
Watch more on Direct to Garment Digital Printing and Screen Printing techniques on Printfly | Rush Order Tees Official YouTube Channel.
For Customer Inquiries and More Information on DTG Direct to Garment Digital Printing Contact Rush Order Tees at 1.800.620.1233 or visit RushOrderTees.com
About Rush Order Tees | a Printfly Company
Rush Order Tees has been in business for over 10 years.
Since it's founding Rush Order Tees has expanded its product offering beyond custom T-shirts to include a large sports, academic, industrial and business offerings including company logo polos, custom business shirts, custom uniforms, custom team jerseys, custom printed hats, custom printed sweats, custom college shirts, school jerseys, custom totes, custom aprons, and more.
Rush Order Tees acquired a 15,000 SF facility in Philadelphia, PA which they equipped with over 20 of the highest quality screen printing machines, new digital printers, exposure units, heaters, and more. Offering free nationwide shipping, an industry-leading low price guarantee, excellent service, value and quality has yielded overwhelmingly positive online rating and reviews across leading sites like Google, Superpages, YP.com, and the Better Business Bureau where they hold a certified A+ BBB Rating. Built on repeat business and referrals from satisfied customers, Rush Order Tees has grown to be a major leader in the custom shirt printing industry.
###