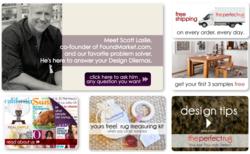 Many of our customers are entirely confident making the decision on the rug they want to make, but others are still in the process of imagining the possibilities. We offer so many choices that we feel they could use some professional advice
San Francisco, CA (PRWEB) October 19, 2011
The Perfect Rug, a nationwide and Bay Area custom rugs online resource announced it is extending its services to include design consultation to its scores of customers looking for a little advice when making a final decision on exactly what sort of rug to create. With literally hundreds of options from dozens of sisal and grass materials plus wools and blends in almost every color, to edging choices, some customers can are looking for a sounding board before making their final decision on a rug.
"Many of our customers are entirely confident making the decision on the rug they want to make, but others are still in the process of imagining the possibilities. We offer so many choices that we feel they could use some professional advice," said Lisa Joss, spokesperson for The Perfect Rug. "So when we met Scott and Alex, co-founders of the new online interior design site, FoundMarket.com, I knew we were going to work together."
FoundMarket.com is the brainchild of well-known designer Scott Laslie, and his partner, Alex Guererro who spent years in the fashion industry. They recognized early, the trend for design and decorating aficionados to look for interior design ideas and solutions online and they wanted to create a service that gave people easy access to professional interior design advice.
"FoundMarket.com is a great fit for today's clients. They are pretty design savvy, they just lack the confidence, and perhaps some of the 'tricks' that really tie a room together and make it sing," said Laslie.
Many of the early clients of FoundMarket.com were actually clients of Scott's terrestrial business and followed him right on line.
"It is simply a great service, and I don't even have to dress up for a meeting with Scott! Now I can do it from my own living room, over the internet via the FoundMarket.com site," said one enthusiastic customer.
Scott Laslie, is the perennial problem solver and loves design challenges large and small alike. FoundMarket.com is maintaining a section on The Perfect Rug website where customers can see some of Scotts' work and ask him design questions via email. Answers are also being posted directly to the site so that clients can learn from one another's dilemmas.
The Perfect Rug maintains its own workshop where rugs are hand cut to the perfect size and then hand bound using a variety of edging styles. Completed rugs are then shipped to arrive in as short as two weeks. Attention to detail, quality craftsmanship and choice are the three cruxes on which The Perfect Rug holds itself as the premier nationwide and Bay Area online store for custom rugs.
Visit The Perfect Rug online at http://www.theperfectrug.com for more information, to get ideas, to create a rug and place an order, and to sign up for their newsletter. Customers may also visit to order online, and have an opportunity to a live-chat.
About The Perfect Rug
The Perfect Rug offers customers the ability to completely design and create their own custom area rugs online of any size and shape to fit their needs through http://www.theperfectrug.com. Free and fast shipping is available on every order.
###