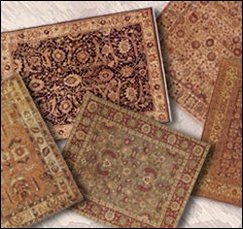 Join us in support of Rene's treatment and recovery
Menlo Park, CA (PRWEB) March 29, 2012
The Oriental Carpet, a local Bay Area business of fine traditional rugs and contemporary rugs, is inviting the community to join a charity raffle in support of their friend, Rene, as he wages a courageous battle against mouth cancer. All proceeds will benefit his health expenses. Typically, the Oriental Carpet is the area's authority on Tufenkian rugs, Nourison rugs, custom rugs and handmade rugs, but that takes a back seat to ensuring that Rene reclaims his good health.
The raffle draw will be held on Wednesday, May 9 at 7 p.m. at the Oriental Carpet store. Attendees are eligible for door prizes and complementary wine and cheese will be provided. The raffle ticket costs $10 dollars and the Oriental Carpet is giving away an amazing handmade rug worth $13,000. The 9' x 12' classical handmade rug is from India, made on a cotton foundation with a wool and silk pile.
"Join us in support of Rene's treatment and recovery," Bruce Good, of The Oriental Carpet, said. "Just for $10, you can help our friend's cancer treatment and recovery."
Located on the Peninsula for more than thirty years, Bruce Good of The Oriental Carpet in Menlo Park has helped discerning homeowners and designers achieve the look and feel that a truly beautiful carpet can bring to a room.
For more information about the charity raffle or any of The Oriental Carpet's products or services, call 650-327-6608, view the carpet store on the web at http://www.theorientalcarpet-bayarea.com or visit 707 Santa Cruz Ave. in Menlo Park.
About The Oriental Carpet
The Oriental Carpet's showroom offers a huge inventory of international styles that showcase a large variety of rugs, including traditional rugs, contemporary rugs, handmade rugs, and decorative rugs and carpets. It is also now the stocking dealer for Tufenkian rugs, including Designer Reserve and the Barbara Barry Collection. The Oriental Carpet offers the most extensive collections of fine rugs, carpets and custom rugs available on the Peninsula.