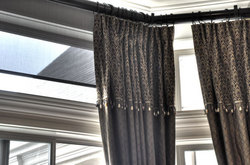 The Glamour Rod is making waves across the interior decorating and window covering world as it combines custom draperies, designer rods and protective sun screens all in one window treatment.
Salt Lake City, UT (PRWEB) June 28, 2010
Custom Shade Manufacturing, a Utah based manufacturer of custom drapery rods and sun screen shades, has begun the national release of their patented product, the Glamour Rod.
"For the last year, we have been honing our manufacturing process and selling only to our local distributors, but we are excited as we begin our push nationally" says Tim Luger, founder and inventor of the Glamour Rod. Nearly a year ago, Tim began the launch of the Glamour Rod in an industry magazine with a small ad and was overwhelmed with a flood of responses. "We ran a small ad and thought that we would test the waters, to see if anyone even noticed or was interested in our little idea, the response was overwhelming. We had to stop the presses and really concentrate on making sure that the product was up to par with the big manufactures; and we can now say with 100% confidence, it is!"
The Glamour Rod is making waves across the interior decorating and window covering world as it combines custom draperies and designer drapery rods, however their patent allows them to hide within the drapery rod a Sun Screen Shade and ensures that they work in perfect harmony together, a true marriage of form and function.
As a designer himself and having owned and operated one of the most successful window covering businesses in Utah, Tim understood the need and put his problem solving nature to work and create a better solution. "Drapes are lovely, they add a designer flare to any room, the fabric, pleats even the finish on the curtain rod, can make or break a room, the problem was that they are simply open or shut, when they are shut no light gets in and when they are open there is simply no privacy or protection from the sun and damaging UV rays. Sun Screen Shades are very functional, providing protection and privacy but they have never really worked together to create one solution that was seamless" Tim says. "The Glamour Rod changes all of that, they work together, it's like milk and cereal, both are fine but together they are better."
Custom Shade Manufacturing has created a line to fit any design need. Their products range from manual to automatic. The top of the line solution; The Superliner, offers full automation where the drapes and the sun screen shades can be operated with the touch of a button. "One of the real beauties is that we can include our Glamour Rods as part of a home automation system, when your drapes and sun screens are attached to your system, opening and closing when you get home or even over the internet if you are away. They can even be setup to have a temperature sensor so when the room gets hot the shades go down to keep the house cooler, combine that with an endless selection of fabrics, finishes and materials and the possibilities are limited only by your imagination! "
The invention of the Glamour Rod has not gone unnoticed by the major window covering manufactures either, companies like Hunter Douglass as well as the biggest names in Sun Screen Shade manufacturing are taking note and have started to open dialog with Custom Shade Manufacturing about future possibilities. "It is very exciting as we begin to launch, the response is unbelievable and it is fun to see the biggest companies in our industry take notice" Luger says.
Located in a small commercial park just minutes from the Salt Lake City Airport, custom shade manufacturing is proving that in today's economy the one currency that has not been devalued is fresh ideas and creative solutions to age old problems. For more information about this exciting product or to watch a video of how it works visit http://www.custom-shade.com
If you would like more information about this story, or to schedule an interview with Tim Luger, please call 435.640.0746
###