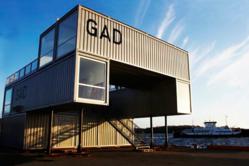 A custom container that can be pre-cut to specific heights and lengths and that is made of 14 gauge steel provides a versatile and safe structure for a variety of uses.
Boston, MA (PRWEB) July 12, 2012
Custom shipping container buildings from http://www.CMCIContainers.com are now available to all U.S. markets. These custom built buildings are now helping to provide a cost effective way for business owners, individuals, government agencies and other public service industries to house products both temporarily and permanently. This new announcement of custom shipping container buildings being offered in all markets is designed to provide an alternative to standard freight containers that might be sold to someone that needs a storage solution. The ability to provide custom sizes and shapes of these steel containers is just one way that CMCI Containers and Integration is able to forge new relationships outside of traditional distribution accounts.
The expense of constructing a new building is one that is very real for business owners and homeowners alike. Many states have building codes that must be followed and all work must have a permit and is susceptible to inspections. The alternative of a custom shipping container is one option that can be explored when additional space is needed and the project budget is scrutinized.
"Our shipping containers can be custom modified and their low bottom line cost provides affordability for both business owners and the general public alike," said Terry Renner, New Business Consultant for CMCIContainers.com. "A custom container that can be pre-cut to specific heights and lengths and that is made of 14 gauge steel provides a versatile and safe structure for a variety of uses," Renner added.
One trend that has become popular in the last 10 years is the construction of eco-friendly or green homes. The materials that are used in building these structures keep the environment in mind and provide a cost reduction in home energy costs. Refurbished shipping containers are one way that a homeowner can add more rooms onto an existing structure, build a guest house or an entire house for much less than traditional construction costs. The steel construction of a shipping container makes it naturally fireproof and resistant to other forms of corrosion that could normally weaken timber. A custom shipping container home has been found to be energy efficient and can be erected much faster compared with standard home construction.
The delivery of a customized shipping container is one aspect that home and business owners can appreciate when adhering to tight business schedules. Material delays are common regardless of the part of the country where supplies are delivered. One delay in the process can be an expensive lessen in planning the construction of building or other shelter. The new custom shipping containers available from http://www.CMCIContainers.com/shipping-containers-products eliminate traditional delays and can often be delivered days faster than regular building materials to speed up the process of construction.
About CMCI Containers and Integration
Charleston Marine Containers, Inc is one of the leading suppliers of intermodal cargo containers in the United States. All branches of the U.S. military use the shipping container solutions provided by CMCI. Based in Charleston, South Carolina, all of the modifications that are requested from clients are finished by an in-house team of experts with a high attention to detail. The recent integration of custom shipping container homes and buildings for businesses and individuals is helping CMCI gain recognition outside the traditional network of government and agencies in related industries.