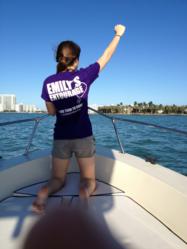 We can't promise that the jerseys will make your players perform any better, but they will definitely look better!
Philadelphia, PA (PRWEB) May 16, 2012
Custom sports jerseys are used by more than just pro sports teams but in a cost-conscious economy, more businesses, organizations, schools, and consumers are turning to alternatives to traditional jerseys and t-shirts.
Moisture wicking t shirts are used more as custom sports jerseys by both professional and student athletes. Many intramural sports leagues design custom t-shirts themselves. Around the country, people participate in spring leagues for all kinds of activities at all different levels of competition and every team wants to look as good as they can on the field.
Many professional and amateur sports leagues also offer social events, and custom t-shirts help break the ice. Identify players of the team and mingle with other teams in the league. If a nickname or number is printed on jerseys, it offers up a story beyond a name. Some leagues also require custom tees for referees, officials, and staff involved with administrating the league.
Rush Order Tees Operations Manager, Matthew Price offered this final tip to the cost-conscious organization and consumer, "When ordering custom team t-shirts, make sure you order in plenty of time to keep costs down and collect a list of sizes, names, and numbers before you place your order."
Price noted, "We can't promise that the jerseys will make your players perform any better, but they will definitely look better!"
Learn more about designing and using moisture management shirts as custom team jerseys at Rush Order Tees.
Rush Order Tees
(800)620-1233
About Rush Order Tees
Rush Order Tees has grown in popularity in the past ten years. The company makes t-shirts through screen printing, DTG printing, embroidery and more. The Company is an eCommerce based businesses built on repeat business and referrals from satisfied customers, Rush Order Tees has grown to be a major leader in the custom shirt printing industry.
Since it's founding in 2002, Rush Order Tees has expanded its product offering beyond custom printed shirts to include a wide variety of sports, academic, community-driven, commercial and business offerings.
As it began to grow out of it's prior facilities, Rush Order Tees acquired a 15,000 SF facility in Philadelphia, PA which they equipped with over twenty of the highest quality screen printers, digital printers (DTG Direct to Garment printers), screen exposure units, screen printing heaters and much more. Now, in 2012, the business continues to grow to a point that now requires a new facility and offices.
Their customers have voiced their well earned allegiance and appreciation across many consumer-driven review sites earning Rush Order Tees and Printfly overwhelmingly positive online rating and reviews across the leading sites including Google, Superpages, Yellow Pages, and the Better Business Bureau where they hold a certified A+ Accredited Rating.
Contact Rush Order Tees at 1 (800) 620-1233