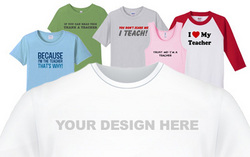 The contest is designed as a fun and creative way to celebrate teachers, raise funds for classrooms in need, and enrich the students' learning environment.
(PRWEB) September 16, 2010
Fibers.com launched a unique custom t-shirt contest today in which participants are competing to win prizes to benefit classrooms in need. The month-long contest entitled, Choose Classrooms: The T-Shirt Design Contest Benefiting Schools in Need, is aimed at celebrating the teaching profession while raising awareness to the lack of funding in public schools. A visit to the DonorsChoose.org is alarming. Tens of thousands of schools nation-wide are in need of simple supplies to help complete science, math, art, and music projects just to name a few.
DonorsChoose.org connects donors with classrooms in need. Using a peer-to-peer model, teachers can post proposals and donors can select the projects they would like to assist by donating as little as $25 or funding the entire project. Contributing over $100 earns the donor a "thank you" package of student notes, project photos, and a letter from the teacher. Fibers.com is passionate about the DonorsChoose.org cause and donates a portion of each sale to help fund teacher posted projects. To date, Fibers.com has donated $14,533 to help 4,613 students across the United States.
The contest will be hosted on Fibers.com and offers $2500 in the form of DonorsChoose.org gift cards for the winning designs. Prizes consist of a $1000 grand prize, a $500 second place prize, and four $250 winners in the following categories: Teacher Pride, For Students, Humor, and Inspirational. Fibers.com is also sharing profits from winning designs' sales to continue funding their projects for a year after the contest ends. Teachers, parents, or former K-12 students all are welcome and encouraged to design a shirt celebrating teachers and this enriching cause. Promotions Manager Joshua Lohr states, "the contest is designed as a fun and creative way to celebrate teachers, raise funds for classrooms in need, and enrich the students' learning environment." Contest participants can attain votes and comments from visitors to increase their chances of winning. Fibers.com contest platform allows for one-click sharing to Facebook and has added a "Shirt Stories" feature to encourage participants to tell their story behind why they created their shirt in hopes to engage others in spreading the word about DonorsChoose.org.
Fibers.com is built around its revolutionary design tool that allows participants the ability to create or upload their own designs using a powerful yet simple-to-use web-based application. The design tool eliminates the need of participants to have special design software or technical skill, though users can upload their own art. With over 7,500 pieces of art and 500 fonts to place on over 40 products, the capabilities for creating unique and beautiful custom t-shirts designs are endless.
For more information, please visit the Choose Classrooms: The T-Shirt Design Contest Benefitting Schools in Need at http://www.fibers.com/contests/choose-classrooms
About Fibers.com
Fibers.com is an innovative website that gives site users the opportunity to design and order customized products, such as t-shirts, hoodies, and a variety of other clothing items. With our revolutionary technology, each and every design on the site is customizable, allowing you the freedom to go with your creative vision. From editing text and changing the image design and colors to resizing images and switching around elements, you can create a truly unique look for your desired product. Fibers.com enjoys helping groups and organizations by hosting clothing design contests to engage their communities and promote their cause.
###