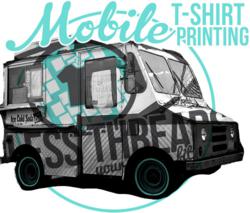 We added this service because we like people. We like being out and about and creating lasting memories for people through the fun of printing T-shirts on site
San Diego, California (PRWEB) July 14, 2012
Tagless Threads (Custom T-shirt Printer) will debut their Mobile Custom T-shirt Printing Services this Saturday, July 14th at Comic Con in the True Blood & Playboy Booth at the San Diego Convention Center.
"Comic-Con International is a nonprofit educational organization dedicated to
creating awareness of, and appreciation for, comics and related popular art forms,
primarily through the presentation of conventions and events that celebrate the
historic and ongoing contribution of comics to art and culture." -Comic-Con Website
Tagless Threads is a Custom Shirt Printer (Screen Printer) in Vista, California. Their claim to
fame is offering their clients their very own Custom Tagless Care Tags inside of the T-shirts.
They are also known for extremely high quality Screen Printing and apparel. Using
water-based ink as their standard ink method is just one way Tagless Threads has a leg up on
their competition.
Mobile Custom T-shirt Printing is the latest and greatest service on the menu at Tagless
Threads. With having had experience printing private parties and hosting "T-shirt
Parties" at their facility, it was inevitable that Tagless Threads was the printer for the task
of printing live at the world famous San Diego Comic Con.
"We added this service because we like people. We like being out and about and
creating lasting memories for people through the fun of printing T-shirts on site".
Tagless Threads Founders
Tagless Threads will be printing live in the HBO/Playboy booth event. The event
is hosted by HBO to promote the show True Blood. Guests attending will choose
from four different designs including images from Playboy and True Blood.
Tagless Threads is a Vista, California based company that provides custom shirts for events and professional businesses. Since 2006, Tagless Threads has consistently delivered quality custom t shirt printing and wow-filled experiences to their customers. Tagless Threads is a private family owned business. For more information on Tagless Threads, please call (800) 409-0695
Tagless Threads is on Behance