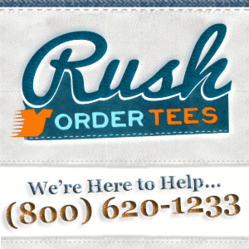 So intuitive, even less tech-savvy visitors can create custom t-shirts
Philadelphia, PA (PRWEB) November 02, 2012
"Visitors with t-shirt design ideas go to RushOrderTees.com to make custom t-shirts online, get pricing and share their designs before placing their order" explained Ron Reed, the Company's head of Marketing & eCommerce. "the video walks visitors through how to design t-shirts using the studio."
The unique and easy to use web app empowers Rush Order Tees visitors to create custom t-shirts online easily and without charge before pricing out their specific order. Visitors can get prices on screen printing designs and share them socially right from the design studio.
Built into the design studio is the ability to easily see a design on different products and see exact pricing for each to compare product costs.
"The Design Studio is sleek, simple, and uses a format so intuitive that even the less tech-savvy visitors can use it quickly and effectively." explained Reed. When designing a custom tee, hat, hoodie, or pant the toolbar can be integral to the decision making process.
Statistically most people simply start designing on the screen printing industry's most popular selling t-shirt - the Gildan G200. But visitors can also browse a large online catalog of customizable products before designing. Once selected a customer can select the text and font for their design. Then add the graphics. Graphics are either uploaded by the customer or chosen by the customer from the application's image bank. After that, customers may decide to add a personalized touch- such as their name- to be embroidered to the design. The Design Studio allows customers to revise their choices, save their design, and even calculate an order's price all before purchasing the final custom clothing order.
About Rush Order Tees
Rush Order Tees seamlessly carries its no-hassle online presence through to the company's core. The Rush Order Tees company was designed with the customer in mind, which is an essential outlook that sets Rush Order Tees apart from its competitors. Rushordertees.com has received the 2010 M&R Print Challenge Award for winning the screen printing industry's fastest t-shirt loading competition with 316 t-shirts correctly loaded in just 15 minutes. That plus a 24-7 support staff, guaranteed high print quality and longevity, and a more than stellar reputation over the past ten years, Rush Order Tees customers expect their experience to be nothing else but effortless.
Contact Rush Order Tees today: (800) 620-1233
Rush Order Tees is an accredited member of the Better Business Bureau