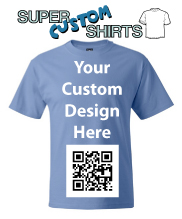 The actual shirt being used in this research is the same and the silk screen process used to print them is the highest quality available.
San Diego, CA (PRWEB) April 27, 2012
As consumers become increasingly dependent upon online services like Google to help them discover products and services to fit their needs, questions about consumer protection become more important than ever. If a business appears at the top of the Google search results, does it mean that business offers the best service or lowest prices? Not necessarily.
When Google recently released an update to their algorithm, David Hall, owner of SuperCustomShirts.com began researching the search results in his industry and comparing the businesses at the top of the search results to his own services. "When Business Owners, Brand Managers, Event Organizers, Team Coaches, Bands and regular people with great ideas decide that it's time to print custom shirts or just about anything with their design on it, they will typically turn to Google. And because of that, millions of consumers are being funneled into websites are clearly not offering the best solutions for their needs" said Hall.
Google's search result pages are the result of an algorithm that does not consider price or quality of service. So how can consumers find the best solutions to fit their needs. It is a simple question to answer really, but it does take a bit of research that the average consumer may not bother doing. Hall researched the following scenario:
"An organization has a need for 50 black Gildan Ultra t-shirts with a four color custom printed design on both the front and back. So the manager turns to the all powerful Google and searches for "custom t-shirts" and is presented with a list of results. The results are dominated by some of the industries biggest online companies including Zazzle.com, CustomInk.com, CafePress.com, and VistaPrint.com. However, upon shopping each of these sites the manager finds that there are significant price differences among them" said Hall. Each of these sites charges the following to fulfill the specified order:

Zazzle.com = $1,278.00
CafePress.com = $1,209.50
VistaPrint.com = $923.50
CustomInk.com = $844.50
SuperCustomShirts.com = $710.90
"Upon further research the manager could also find SuperCustomShirts.com, a company that has been in business in San Diego for 35 years, producing quality screen printing, and will fulfill the same order for just $710.90. A savings of between $133-$568 dollars on an order of just 50 shirts compared to the competitors that dominate Google's search results. While the price clearly shows that these are cheap custom t-shirts," said Ron Hall, Co-Owner of SuperCustomShirts.com and a 38 year veteran of the screen printing industry, "the actual shirt being used in this research is the same and the silk screen process we use to print them is the highest quality available. In fact at least one of these companies uses "Iron-On" heat transfers, which are very poor quality because they don't stand up to many washes."
How would a consumer find a niche solution like SuperCustomShirts.com? David Hall suggests "do some deeper research than just the first page of Google and then actually do some comparison shopping. They could also check some Q&A forums and ask around on social networks. Technology is great, but if you want to get the best prices and quality, you can't just accept what search engines are spoon feeding you."
"The problem is that Google uses an algorithm with over 300 factors to index and judge all webpages. While many of these factors are very indicative of high quality, authoritative and trust worthy sites, there are also many loopholes that can be exploited by companies that can afford to exploit them" said Hall. "This is really the heart of the problem because companies that charge more, typically make larger profit margins and can then use that additional revenue to buy more links, advertising, content syndication and other factors that allow them to manipulate the search results. Thus, what tends to happen is that the companies that offer the lowest prices, simply can't afford to pay for what it takes to rank number one in Google."
For consumers willing and able to do a bit of their own research, there are great companies like SuperCustomShirts.com out there ready to offer high quality products at prices that may be better than their larger competitors. Then it's up to every conscientious consumer to spread the word.
For more information on ordering custom printed t-shirts online, contact David or Ron Hall at SuperCustomShirts.com.