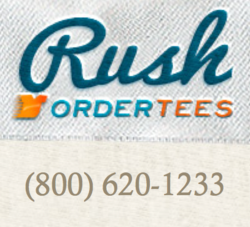 It's satisfying to not just serve our customers... but to also help the economy and our employees
Phildaelphia, PA (PRWEB) May 15, 2012
Screen printers Rush Order Tees has expanded beyond it's previous facility from online growth in the supplier of choice in the custom printed t-shirts industry focusing on large and small businesses, schools, universities and non-profit markets. The increased demand on their services has yielded a need for additional support roles and company-wide hiring.
"The addition was necessary to provide the level of service and attention to details we've become recognizes for through the years." noted Ron Reed, VP of Marketing and eCommerce for Printfly and Rush Order Tees. "To service our customers better, we needed to onboard more talent in every capacity. We have the equipment and production square footage to be scalable as a custom t-shirt printer stand alone, but we needed more office space to support growths in our art department as well as our customer relations, IT and marketing teams.
"It's satisfying to not just serve our customers -- both B2B and B2C -- but to also help the economy and our employees. Especially in current conditions, the ability to create jobs is rewarding. We have the best team of professionals in the business, each contributing their unique talents to our growth and to making the customer's vision a reality.
Lear more about Rush Order Tees by visiting their website or calling customer relations at (800) 620-1233.
Rush Order Tees
http://www.rushordertees.com/
(800)620-1233
About Rush Order Tees
Rush Order Tees custom t-shirts have grown in popularity in the past ten years. The company makes t-shirts through screen printing, DTG printing, embroidery and more. The Company is an eCommerce based businesses built on repeat business and referrals from satisfied customers, Rush Order Tees has grown to be a major leader in the custom shirt printing industry.
Since it's founding in 2002, Rush Order Tees has expanded its product offering beyond custom printed shirts to include a wide variety of sports, academic, community-driven, commercial and business offerings.
Following it's continued growth, the Company acquired a second facility in Pennsylvania, located in the high real-estate valued Northeast section of Philadelphia. Their new 15,000 SF facility was equipped with over twenty of the highest quality screen printers, digital printers (DTG Direct to Garment printers), screen exposure units, screen printing heaters and much more. Now, in 2012, the business continues to grow to a point that now requires a new facility and offices.
Their customers have voiced their well earned allegiance and appreciation across many consumer-driven review sites earning Rush Order Tees and Printfly overwhelmingly positive online ratings. The Company has built a following across social sites as well as amassing ratings and reviews across the leading consumer review sites including Google (and Google Reviews), Superpages, Yellow Pages, Yelp, Merchant circle, Facbook (via Faceboook Recommendations)and the Better Business Bureau where they hold a certified A+ Accredited Rating.
Contact Rush Order Tees at 1 (800) 620-1233