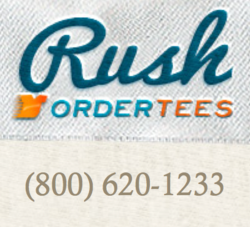 Their customers have voiced their well earned allegiance and appreciation.
Philadelphia, PA (PRWEB) April 20, 2012
With the growth the custom t-shirts industry has seen this Spring, screen printers Rush Order Tees has compiled a list of font related resources for anyone looking to make custom t-shirts.
Dafont
Nearly everybody in the design community is familiar with dafont. In the case of fonts, sometimes the best in life truly are free. Though it's rather hit-or-miss, the density of truly high quality fonts is healthier than one might imagine.
Urban Fonts
This website offers both free and commercial fonts, and their collection is not quite as large as dafont's. Despite not being as large or as popular, there are still high quality fonts that could potentially work quite well available for download under their Free Font section.
Smashing Magazine's Best Free Fonts 2012
The latest iteration of this editorial list of free fonts released every year by Smashing Magazine is a great place to find a list of all high quality fonts.
Design Modo – 50 Fresh Fonts Another edited list of fonts from experienced designers to inspire designers and laypeople.
About Rush Order Tees | a Printfly Company
Printfly and Rush Order Tees are eCommerce based businesses built on repeat business and referrals from satisfied customers, Rush Order Tees has grown to be a major leader in the custom shirt printing industry.
Since it's founding in 2002, Rush Order Tees has expanded its product offering beyond custom printed shirts to include a wide variety of sports, academic, community-driven, commercial and business offerings.
Their customers have voiced their well earned allegiance and appreciation across many consumer-driven review sites earning Rush Order Tees and Printfly overwhelmingly positive online rating and reviews across the leading sites including Google, Superpages, Yellow Pages, and the Better Business Bureau where they hold a certified A+ Accredited Rating.
Contact Rush Order Tees at 1 (800) 620-1233