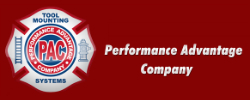 Lancaster, NY (PRWEB) June 29, 2013
Performance Advantage Company, a leading manufacturer of high quality tool mounting brackets, is pleased to announce they are now providing tool mounts for heavy towing and wrecker vehicles. Their tool mounts will help trucks stay organized while protecting people and equipment.
This entry into the towing and wrecking industry is a natural progression for PAC. Their tool mounts are already used in industries like law enforcement, military and Emergency Medical Services. Their products are tested to extremely high standards are compliant with such organizations as the National Fire Protection Association.
Aside from the organizational benefits to PAC's tool mounts, they also help with safety and stabilization of tools so they are not moving around a vehicle. Vehicle operators will know where tools are, what tools are missing at the end of a job, and can make sure tools are always in the right place.
PAC helps keep employees and bystanders safe with their secure and trusted tool mounts. To download a product list or inquire about their product demonstrations, please visit their website at: http://www.pactoolmounts.com. PAC provides their tool mounts both nationwide and internationally, dealers can also be found on the website.
About the company:
Performance Advantage Company, established in 1992, is a privately owned company which manufactures and markets high quality tool mounting brackets. PAC's primary market is the fire industry providing specialty tool mounting solutions for fire apparatus. Other markets include the military, law enforcement, EMS, utilities and Homeland Security. PAC provides adjustable mounts, universal mounts, friction locking brackets, custom tool boards and more. A full list of their products and specifications can be found on their website. Performance Advantage Company is headquartered in Lancaster, N.Y., a suburb of Buffalo, and sells its products direct or through a worldwide network of dealers. Please visit PAC on the web for more information.