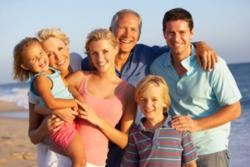 The Baby Boomers are the driving force behind multi-generational travel
Tucson, AZ (PRWEB) May 30, 2012
Multi-generational travel is a flourishing trend, announces Gateway Destinations. According to the U.S. Travel Industry Association, it has been estimated that at least 5 million family vacations a year in the United States span three generations.
The Baby Boomers are the driving force behind multi-generational travel. Boomers are healthier, more affluent, living longer than past generations, more educated, and more accustomed to traveling. According to U.S. Trust, they are less concerned with leaving an inheritance, which means Boomers have more disposable income to spend on funding unforgettable family vacations. In short, they value creating memories more than leaving a tangible legacy.
Whether it is to celebrate a milestone birthday, anniversary or wedding or to simply unite the family for precious family time, multi-generational vacations bring together extended families, allowing grandparents to educate loved ones about their rich heritage and sharing new enriching experiences with their children and grandchildren. Adventures such as an African safari, beautiful beach destination, Alaska Cruise, trekking Machu Picchu, or tracing family roots in Europe are sure to excite each generation.
For further information about a Gateway custom tour that best fits your family, contact Jan Acorn with Gateway Destinations, 888-429-1242. You may also visit their website at http://www.gateway-destinations.com/custom-tour/.
About Gateway Destinations
Gateway Destinations, LLC, provides custom travel planning services for individuals, couples and small groups to Alaska, Hawaii and foreign destinations, specializing in travel to Europe. In addition, Gateway creates custom small group tours (escorted or unescorted) and specializes in guided tours for women.