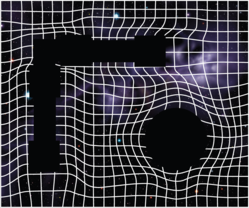 San Francisco, CA (PRWEB) April 10, 2013
Maloos Anvarian is among the 25 designers/manufacturers selected to create a lounge concept for the Exploratorium's Opening Gala, a science-inspired party in the stunning new Gallery that takes place Friday, April 12.
Reflecting the Exploratorium's mission to ignite curiosity and encourage exploration through smart yet playful programming, Anvarian's lounge, called Warped Passage, focuses on aspects of cosmology – a topic central to many of the Exploratorium's most successful exhibitions and programs.
Based on Einstein's theory that gravity warps the fabric of space-time in such a way that enormous objects bend the universe (think a Sumo wrestler on a soft mat) so that other objects cannot help but fall toward them, Warped Passage immerses the viewer in a stylized representation of how heavenly bodies that, thanks to their mass, momentum and proportional force, warp the fabric of space time.
The walls, floor and ceiling of Warped Passage are created from custom-printed, fire-retardant fabric and will reflect the cosmos and an imaginary grid of space time. Black light, as the primary source of illumination, will allow the viewer to see distant galaxies, a black hole and more. Modular satellite seating and tables as well as a saucer ottoman will represent the heavenly bodies in space, while chandeliers made of Lucite and crystal will symbolize different size suns actively warping the fabric of space time within the lounge.
When asked to participate in the opening gala, Anvarian was intrigued. "Marrying the ideas of science and design provided me with the opportunity to pair two of my interests," said Anvarian. "I have always enjoyed astronomy and cosmology. Gravity, black holes and the space-time continuum are fascinating to study and they embody the idea that truth can be stranger than fiction."
The Exploratorium's landmark museum will open its new location on the waterfront at Pier 15 on April 17. The nine-acre campus between the Ferry Building and Fisherman's Wharf extends 800 feet into the San Francisco Bay at Pier 15. The Opening Gala will be held on April 12 and includes innovative cuisine, cocktails and activities.
About the company:
San Francisco-based interior designer Maloos Anvarian specializes in "modern furniture with a history." She is drawn to taking styles of historical importance and bringing them into the 21st Century. The results are diverse: furniture that could be categorized as Contemporary Baroque or an interior that conjures up the star-crossed feel of French Country kissed by Hollywood Regency. Stylish and distinctive with just the right touch of glamour, DWM | MALOOS furniture ranges from vintage and antique pieces infused with contemporary touches to bespoke furniture that pays homage to the past. From upholstery to Lucite; from seating to tables to bespoke lighting, you'll find the perfect statement piece for your home at DWM | MALOOS. DWM | MALOOS also offers two types of custom wallpaper: Stock or Off the Rack wallpaper allows customers to select the color, orientation and scale options of stock patterns, while personalized wallpaper, or custom printed wallpaper, converts any imaged submitted into a truly personal, one-of-a-kind statement for home walls. Their eco-friendly wallpaper will last up to 10 years. To view the full line, visit http://www.dwm-maloos.com.