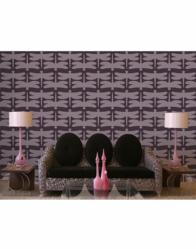 Our focus has always been custom design. With the addition of our two new wallpaper lines and our innovative furniture 'skins', we're excited to more fully meet our customer's dreams.
San Francisco, CA (PRWEB) May 09, 2013
New Items Designer Maloos Anvarian is branching out with a custom line of stock or "off the rack" (aka prêt-à-porter) wallpaper patterns, as well as personalized "couture" varieties that are based on a client's specifications/inclinations, and which can reference anything from treasured personal photographs or specific motifs to abstract shapes or graphics. Anvarian also debuts two pieces of furniture with new "skin" that are expected to make a big splash.
"The stock wallpapers are actually, 'prêt-à-poser' if you want to get technical about it," says Anvarian who attended the Ecole Superior Des Arts Modern in Paris, "but they are designed to be as bold and stylish as good clothes, so the thinking is they are for a room to wear."
The skins are made from a very pliable, durable (sometimes to the point of semi-transparency) vinyl. They are applied and wrapped in such a way that—much like an iPhone skin personalizes a phone— they fundamentally alter the personality of the piece of furniture. All skins are designed and produced in-house at DWM Maloos.
The new wallpaper is available in two versions. The already designed, so-called prêt-à-porter version currently has 27 choices in stock, which are available in custom colors. The personalized wallpaper, (aka couture) option involves taking a clients specifications—a supplied photograph, image, graphic or other direction—and laying it out in a wallpaper design that keeps in mind the size of a particular wall or room.
Both options can be printed on panels or rolls in widths of 24 or 50 inches. The 50" width means fewer seams and a more efficient installation. Materials include pre-pasted paper as well as fabric, all of which are available in eco-friendly wallpaper options. The vinyl and some of the other materials offer the advantage of being repositioned or even peeled off.
Design and layout of custom wallpaper is dependent upon the amount of time required to achieve the specific look to the client's satisfaction and runs $85 per hour.
All wallpaper is printed in small batch runs, which allows for greater flexibility and superior consistent quality. Any style can be created from Rococo to Modern and French Country to Beach Chalet. Any image can be produced (taken from photo, sketch, pattern, etc). There is no pattern scaling issues such as dealing with partial patterns etc. Papers and inks are earth-friendly and recyclable. They are produced in San Francisco, and passes Commercial Codes.
About the Designer:
San Francisco-based interior designer Maloos Anvarian specializes in "modern furniture with a history." That is to say she is drawn to taking styles of historical importance and bringing them into the 21st century. That might mean furniture that could be best categorized as Contemporary Baroque, or an interior that conjures up the star-crossed feel of Country French kissed by Hollywood Regency.
Perhaps interest in respecting history, and mixing it into the present comes naturally when you're born in Azerbaijan, grow up in Teheran and then move to Paris when only 17 to attend the Ecole Superior Des Arts Modern.
Existentialist plays by Beckett, fashion by Gautier and designs by Jean Michel Frank, Dorothy
Draper, Eileen Gray, Mies van der Rohe and Phlippe Starck are all influences. While she demonstrably loves working with wood and plexiglass, vibrant color anchored by white is a hallmark of Anvarian's designs. When asked what she likes most about what she does, she responds, "Creating a room or a piece of furniture that incorporates the right balance of aesthetics and engineering – figuring out how to make things work."
Her work includes tables, seating, lighting, custom printed wallpaper, and other accessories.
When not designing rooms or interiors she puts her mother to work doing things like hand making mesh from discarded aluminum pop-tops, and putting herself in the kitchen to dabble in cooking cuisines that will expand her repertoire.