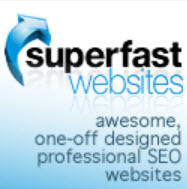 Sydney, Australia (Vocus/PRWEB) February 20, 2011
A professionally designed and built website is now within the reach of every business. A new, unbeatable price point announced for SuperFastWebsite's popular Silver SEO Package for custom website development has made this possible.
The investment of tens of thousands of dollars, and the frustration of trying to balance great design with search engine optimization in the pursuit of a great website, have been relegated to the history books.
SuperFastWebsites
In creating his SuperFastWebsites business, internet marketing aficionado, James Schramko, drew upon his own experience -- using his proven formulas for profitable, high-converting websites.
There are three packages from which clients can choose, from the Fast Start Site Package through to the big-gun -- the Gold SEO Website. Increasingly popular though, is the Silver SEO Package.
Silver SEO Package
Custom website development provided by this highly skilled US-based team, includes features that are designed to attract the search engines. Built using WordPress platform, the Silver SEO Package websites already have a lot going for them, but with added touches of Schramko brilliance, they are ready to go to work immediately.
Standard and specially selected plugins, opt-in list integration, contact form and social media page implementation are just a few of the included features -- all are must-haves for a successful website.
An optional e-commerce add-on transforms the Silver SEO website into a commercial site with shopping cart integration.
Wordpress Website Build
By using a Wordpress website build SuperFastWebsites are simple for users to manage and update. Content management is easily accomplished, even by novices, allowing users to quickly respond to market changes and competitor initiatives. Wordpress functionality and flexibility allows for the unlimited growth of each website.
Never before has it been so easy to have a quality website built, for so little.
More details are available at SuperFastWebsites.com
About James Schramko
James Schramko is a Sydney based Internet Marketer who fired his boss in May 2008. Since then his internet marketing business has grown exponentially. James has not just mastered the essential skills you need to be a success on the internet, but he is applying them in innovative ways that have skyrocketed him to international renown.
James continues to developed his suite information products and automated profit systems that are in demand by the top internet marketers around the world (they now call him for advice!). In so doing he indulges his passion for product development and innovation, and mentoring students in high-level and ethical internet marketing.
About SuperFastWebsites
SuperFastWebsites was created to supply custom designed WordPress CMS web sites at very competitive rates. James Schramko, the founder of SFW has been using WordPress to rank highly in the search engines for himself and his clients for years. He has assembled an amazing team of designers and programmers to build you high quality awesome designer websites (that work!).
# # #