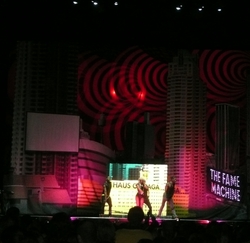 Bring on the next one!
Rancho Dominguez, CA (PRWEB) February 18, 2009
Pop artist Lady GaGa has European audiences going gaga over her act that opens for the Pussycat Dolls 2009 tour. But just as dazzling, from a staging perspective, is her amazing mixed-media cityscape stage backdrop. Its visual imagery stirs the concert goer's imagination; an urban scene complete with images of high rise buildings, sparkling city lights, smoke stacks emitting real smoke, illuminated billboards and brilliant video projection. And all of this drops out of sight to make way for the main show in just a matter of minutes.
The creative force behind this incredible cut backdrop set is famed production designer Ray Woodbury of RK Diversified in Upland, California. To fabricate this elaborate and complex backdrop, Woodbury selected Sew What? Inc., of Rancho Dominguez Hills, California, well-known throughout the entertainment industry for their custom theatrical drapes and fabrics. This was, in fact, one of several recent collaborations between Woodbury and the theatrical drapery manufacturer Sew What?
"This was an amazing project for us," said Megan Duckett, president of Sew What? "We only had a few weeks to design, engineer and fabricate a custom backdrop that included wide-format digital printing, cut drops over mesh scrims, LEDs, built-in smoke lines, and a built-in projection screen - all of which has to be removed from the stage between acts."
Sew What? rigged the custom backdrop as an enormous Kabuki drape which drops to the floor when solenoids are fired from offstage. This allows the set behind it to be revealed. Fabric materials used included Airtex for the digitally printed backdrop, Encore velour (which forms the backdrop for the main act as well) and Tiger Gauze mesh to support the cut drop.
To create this drop, says Duckett, "We had to look at the big picture and then start in the middle to assemble all the various components. We're always looking to match the client's vision no matter how simple or elaborate, and then find innovative ways to translate their ideas into the finished piece."
According to Duckett, Woodbury's response to the entire finished effect was "Phenomenal!"
"With each new project that challenges us, we discover new talents and capabilities in our team," added Duckett. "Bring on the next one!"
ABOUT SEW WHAT? INC.
Sew What? Inc., located in Rancho Dominguez, CA, is well-known for its dramatic custom theatrical drapes and fabric treatments designed for major rock band and concert stages, for top fashion shows and other artistic staged venues.
Their projects extend beyond just the entertainment industry, Sew What?; you'll see their draperies and fabric treatments at special company events, in school auditoriums and at trade shows too. Their motto: If you can dream it, we can sew it!
The company has received numerous awards for innovation, including the Dell/NFIB Small Business Excellence Award as well as PC Magazine's SMB 20 Award for technological innovation for small and medium-sized businesses, and was featured on the 1000th cover of Rolling Stone. For more information, contact Sew What, Inc. at (310) 639-6000
###