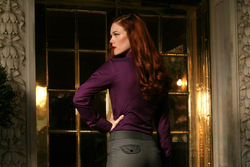 Best Fashion Labels for Tall Women.
New York (PRWEB) October 28, 2009
Moi-Meme, the New York City-based custom career clothier for women, has partnered with Unique Boutique to offer its personal tailoring service through BodyPrint™ boutiques across the U.S. and Canada. The new collaboration expands the reach of the brand's mass customization concept for contemporary women's apparel.
At a Unique Boutique, a woman may have her measurements taken by an onsite body scanner; the scanner uses laser technology to scan the body at 200,000 measurement points, creating an individual BodyPrint™. The customer's BodyPrint™ is saved to her online profile, where she uses it to order clothing custom-tailored to fit her body. Once scanned, she may shop online -- from anywhere -- for Moi-Meme's custom women's clothing. Each garment is individually crafted by Moi-Meme's tailors and shipped to her home four weeks later. "Moi-Meme aligns with our goal to offer custom-made beautifully tailored clothing to women everywhere with a very easy process," says Unique Boutique Senior Vice President, Terri Ghio.
"The opportunities to leverage Unique's body scan technology to manufacture clothing for women who find it challenging to purchase ready to wear are tremendous," enthuses Founder and CEO, Dawn Verbrigghe. "We continuously receive requests for Moi-Meme's made-to-measure clothing from women across the country; this gives us a way to reach those women through a consistent method of measurement-collection."
Ms. Verbrigghe - who is also a faculty member at Parsons the New School for Design - developed an interest in custom apparel because she is too tall to fit into off-the-rack pants. She founded Moi-Meme to address the need for stylish, office-appropriate apparel that fits and flatters women of all body types. The company introduced its inaugural collection in 2007 and has since expanded to include a focus on petite clothing and clothing for tall women. Earlier this year, O, The Oprah Magazine recognized Moi-Meme as one of the "Best Fashion Labels for Tall Women."
Unique Boutiques are currently premiering in Annapolis, MD; Boston, MA; Long Beach, CA, and in Canada at Dartmouth, NS, with more scheduled to open throughout the country.
About Moi-Meme
Moi-Meme Attire Ltd. is a made-to-measure apparel business that designs, tailors and markets custom suits and career separates for professional women. Moi-Meme combines thoughtful design, quality materials and masterful tailoring to produce perfect-fit custom apparel. An appointment for Moi-Meme's personal tailoring service can be made through its website at http://www.moi-meme.com.
###