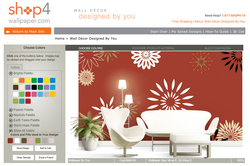 This tool offers a way for our customers to become their own product designer, and create precisely what they want for their homes
Cleveland, Ohio (PRWEB) September 5, 2009
Shop4Wallpaper.com, an innovative online retailer in the residential wallpaper industry, has launched a unique online design tool which allows users to create customizable and personalized designs, patterns, artwork or photography, printed on a variety of materials for use as wallpaper, murals, and "peel and stick" home accents.
"This innovative tool is far more powerful than the few existing tools available online", said Patrick Walker, the company's president and founder. "Customers can choose from existing designs, modifying the color and size, or they can create new designs from scratch by uploading a photo or a personal piece of artwork."
After browsing through the extensive design archive, customers can modify size, layout, composition, change the backgrounds, add text, create fills, or change color palettes in real time, giving them the ability to create custom pieces that compliment their existing spaces and décor. "This tool offers a way for our customers to become their own product designer, and create precisely what they want for their homes ", said Walker.
Perhaps best of all, the "Wall Décor Designed by You" tool allows customers to create and purchase their creations all in one place. "This design tool offers a "start to finish" solution for consumers to quickly and easily create and purchase their wallpaper and wall décor accents", explains Shop4Wallpaper's Albert Helcberger.
In a challenging economy, many homeowners are looking for ways to quickly and affordably decorate or refresh their living spaces. "This design tool provides a way to do just that", said Diana Robinson, owner of DLM Studio and creative director of Shop4Wallpaper. "There are very few tools like this, and they are rudimentary in both function and style choices. None feature the combination of power and ease of use that we are providing, and the final results are stunning. Kids wallpaper and coordinated wall décor are both going this direction."
An increasingly popular decorating trend in the past year, wallcovering provides consumers with strong alternatives to traditional painted walls. Powerful, easy-to-use customization tools are certain to be important in the resurgence of this category. Global leader in materials, office products and information management, Avery Dennison worked closely with the Shop4Wallpaper team in the development and roll-out of this program.
About Shop4Wallpaper: Located in Cleveland, Ohio, Shop4Wallpaper, a trend-setting online wallpaper retailer, has created inspiring interiors for residential and commercial use. The company's product line extends far beyond wallpaper to include products such as the custom wallpaper murals featured on ABC's "Extreme Makeover: Home Edition". Their creative team has designed and manufactured innovative wall decor products for many of the top companies in the industry and creates nearly all of the branded contract wallcoverings and color palettes for Omnova Solutions, the largest manufacturer of commercial wallcovering in the world.
For more information, go to http://www.Shop4Wallpaper.com/designedbyyou, or call (877) SHOP4-10 (ext 121)
###