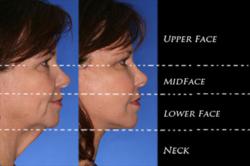 "Commonly I find traditional face-lifting techniques to result in an unnatural or overdone look. The Custom Lift approach allows me to address the specific facial aging concerns of each patient to achieve long-lasting rejuvenated results."
Newport Beach, California (PRWEB) June 13, 2013
Dr. Cruise, one of the top plastic surgeons in Orange County, has developed a Custom Face Lift approach for patients wishing to address facial aging. Dr. Cruise understands a "one size fits all" approach is not ideal for obtaining optimal results. During consultation he evaluates facial aging by dividing the face into four anatomically linked regions; upper face, mid-face, lower face and neck. He then determines which of the 6 common procedures (facelift, neck lift, temple lift, upper and lower eyes, and fat transfer) are necessary to address the needs of the patient. In using this approach, there are a variety of benefits to the patient such as, providing a natural result without being over-done, eliminates the need for a repeat facelift by addressing the underlying facial muscle structure, and the addition of fat transfer improves skin texture and quality.
The overwhelming success of the Custom Face Lift, offered at Cruise Plastic Surgery, has improved the self-confidence and lifestyle of aging patients throughout Orange County. As one patient said, "I was surprised how those close to me commented on how refreshed I looked without guessing I had work done. I am so glad I did this at 52 instead of waiting. I can now enjoy the results for years to come."
For more information, please visit: http://orangecountycosmeticsurgery.com/face-lift/
Finding a more natural solution for minimizing the effects of aging is a priority for Orange County patients. Dr. Cruise is proud to offer a customized approach to facelift surgery and other cosmetic procedures. At Cruise Plastic Surgery ensuring the patient's needs are met is the number one focus.
About Cruise Plastic Surgery:
Cruise Plastic Surgery, located in Newport Beach, Orange County, California, is one of the top plastic surgery practices in the Southern California region. The director, Dr. Joseph T. Cruise, is a fully trained, board-certified plastic surgeon specializing in facelift, breast augmentation, tummy tuck and other cosmetic surgery procedures. Dr. Cruise is also one of the region's best known surgeons for rhinoplasty (nose surgery), neck lift surgery and gynecomastia. His dedication and focus is clearly evident in the comprehensive educationally based web site he manages and the concierge-like customer service his patients receive from the entire office. Experience and predictably good results have earned him the distinction of being one of the best plastic surgeons in Orange County.