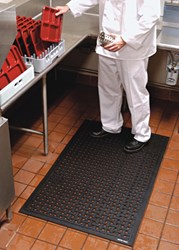 Comfort Flow Mats work very well in slippery food service and industrial applications.
Cleveland, Ohio (PRWEB) December 13, 2013
The new Comfort Flow Anti-fatigue Mats are grease and oil proof, static dissipative, and include a lifetime anti-microbial treatment, making them ideal for commercial kitchens and industrial environments. These molded, nitrile rubber mats include 15% post-consumer recycled content, and are more flexible and 40% lighter than other flow-through mats. This makes these American-made mats much easier to handle and clean. They are dishwasher safe, welding safe, and designed for use in both wet or dry environments.
The Comfort Flow Mat features beveled edges for safe transition from mat to floor. The durable mats offer two surface options--the standard nitrile rubber surface, or an aggressive, silicon carbide surface for maximum slip resistance.
The mats are also offered in two styles. Comfort Flow has drain holes to allow liquids to flow through, and the Comfort Scrape version has a non-draining surface.
"Comfort Flow Mats work very well in slippery food service and industrial applications," states company president Dan Ruminski.
Comfort Flow and Comfort Scrape Mats are made in the USA, and come in four standard sizes ranging from two by three feet to three by nine feet. Optional connector clips allow multiple mats to be connected together for larger areas. The National Floor Safety Institute certifies them slip resistant.
About Martinson-Nicholls
Martinson-Nicholls, has established itself as a leader in custom anti-slip tape, floor mats, and eco-friendly products for more than 25 years.
Martinson-Nicholls provides the customer with the exact size matting needed--small, large, standard, nonstandard, special shapes and logos. Custom installations are also a specialty of the company.
Anti-slip safety tapes and treads are available in various sizes and textures from hand cut or die cut pieces to full rolls and special shapes. For more information, please visit http://www.floormat.com.