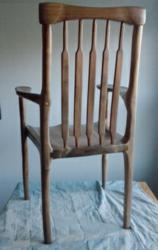 I try to give the customers something original. Every piece is unique.
Ashland, Alabama (PRWEB) April 02, 2013
Regardless of your home décor, the inclusion of natural edge wood tables and other natural wood custom furniture adds a comfortable warmth that only nature can create, artistic curves and smoothness that invite hands on appreciation. Alabama based Furniture By Paulk has gone to exceptional lengths to emphasize the natural art and beauty of wood in creating one of a kind pieces of hand made furniture. For craftsman Paulk Griffin the process begins with buying or personally harvesting individual logs, keeping each log intact after it is sawn and kiln dried in the company dehumidification kiln. The craftsman personally selects the wood for each project from the company's log warehouse. Normally, all components of a piece of furniture come from a single log, thus ensuring matching grain, coloration, and wood characteristics.
Sculpted, heirloom quality chairs and tables of all kinds and sizes are the most common pieces made. Other than temporary labor for handling large tables and log slabs, each piece is a hands on project designed and built by Paulk. "When I open up the slabs in a log, I envision how it can be used best," he explained. "Buying logs rather than lumber at a sawmill gives me much more design latitude. The extra steps require more work and slower output, but I am obviously not aiming at the mass consumer market that is satisfied with stained over or painted over unidentifiable wood. Good quality natural wood used in an artistic, functional manner results in a desirable product that will last for generations."
Total design flexibility and one-on-one communication are other factors that set Furniture By Paulk apart and provide potential customers direct input into all aspects of their project. The craftsman takes steps to educate the majority of customers who have a limited knowledge of different wood species. Whatever the form of communication---pictures, drawings, etc., the goal is to make the potential customer comfortable with the custom made concept and to ensure that the result is satisfactory. A selection of custom chairs will be shown April 5, 4:30-9:30 pm at LMo & Co. gallery, 121 Court Square North Talladega, Al 35160 256-362-6200 To view recent projects, visit the web site http://www.FurniturebyPaulk.com