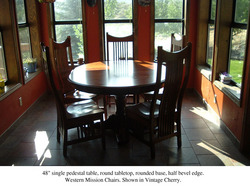 As a strong environmentalist, I have carefully considered the impact of our business on the Upper Midwestern forests
South Saint Paul, Minnesota (PRWEB) March 17, 2008
Eco-conscious consumers and interior designers nationwide who seek exceptional quality custom heirloom furniture are turning to Harmony Cedar's online store at http://www.harmonycedar.com - all while reducing their carbon footprint. The online store provides shoppers nationwide access to exquisite customized Amish furniture and other modern designs such as Mission, Prairie, Arts & Crafts, Shaker and Frank Lloyd Wright inspired pieces. The "green" company is both socially and environmentally responsible and takes great pride in preserving their land and natural resources, customer relationships, and the welfare of their many Amish craftsmen and suppliers - ensuring the centuries-old craft does not become a lost art.
"As a strong environmentalist, I have carefully considered the impact of our business on the Upper Midwestern forests," said Rick Hansen, President of Harmony Cedar. "For us - Earth Day is everyday of the year. As a result, each Harmony Cedar piece is made with sustainable hardwood and large sections of our farmland have been placed into the Conservation Reserve Program. To date we have planted more than 5,500 trees. Harmony Cedar furniture is made-to-order and will last for several generations - much longer than it takes to grow a new tree. Most store-bought, mass-produced furniture available to consumers today is created with laminates, press boards, and plywood which not only wears out in only five years - but these inexpensively made, mass-produced products rapidly accelerate the depletion of our forests," Hansen concluded.
Harmony Cedar's products include original, handcrafted dining room tables - including large custom family-sized tables; dining chairs, benches, and barstools; cedar chests and hope chests; Mission hutches, servers, sideboards and wine servers. All furniture is available in responsibly harvested cedar, hickory, oak, cherry, maple and walnut - backed by a 100% quality guarantee.
Visit http://www.harmonycedar.com for more information.
Media Contact:
RPR Public Relations, Inc.
Tel. 786-290-6413
###