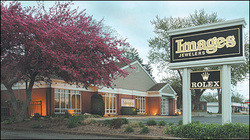 "We decided to revamp our entire website so that our customers have the best shopping experience possible. We want our online store to have the informative personal touch that our customers currently receive in our brick and mortar store."
Elkhart, IN (PRWEB) March 2, 2011
Images Jewelers , a family owned company founded in 1976, enhances its focus to their clients with a newly redesigned website. The updated website, which is more consumer oriented than their previous website, features improved navigation as well as full live support and improved custom jewelry gallery.
The end result is targeted pages with improved response times for custom jewelry questions and information on how the process works, which Images Jewelers believes will benefit the customers that utilize their website.
The new consumer centered approach comes as part of a company initiative for improved customer service that began in February of this year.
"We decided to revamp our entire website so that our customers have the best shopping experience possible. We want our online store to have the informative personal touch that our customers currently receive in our brick and mortar store," said Kelly Klose, company spokesperson. "The launch of our new website coincides with our new Social Media initiative through Facebook, blogs, and soon YouTube to further enhance the custom jewelry experience at Images Jewelers."
The release of the new website will enhance the overall customer experience for those shopping Images Jewelers online. Images implemented these changes to better serve both online and in store customers alike.
###