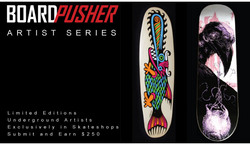 Denver, CO (PRWEB) July 7, 2009
BoardPusher Custom Skateboards launches the Artist Series Program, giving artists a chance to earn some cash and industry exposure. The Artist Series is a collection of limited edition graphics created by selected artists and only available at exclusive skateshops.
"We're always trying to promote the best organic and underground talent. The Artist Series is an exciting way for us to expose some of these great artists who have become part of the BoardPusher community and at the same time offer participating skateshops a product that looks just as good as it skates," says BoardPusher founder, Lucas Bond.
The Artist Series currently features two decks and is now open to public submission. Selected artists get $250 for a limited edition of 100 decks and $100 for each additional edition printed. Any artist now has the possibility of getting one of their decks on the wall at their local skateshop. Decks will be added to the Artist Series every month.
Printed on the industry's best 7-ply Canadian Maple in Denver, CO, Artist Series decks come with a printed top sheet including the artist's name, signature, title of the design, and edition number.
About BoardPusher:
BoardPusher offers on-demand printing of custom skateboards with no minimum quantities. Based in Denver, CO and founded in 2003, BoardPusher is owned and operated by skateboarders. For more information, please feel free to contact them at 888-615-8704.
###