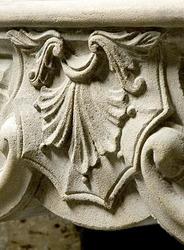 It demonstrates François & Co.'s commitment to showing its products in a fashionable setting
Atlanta, GA (PRWEB) October 26, 2007
The Fireplace Mantels of François & Co. highlighted the opening of the new Los Angeles Showroom. The opening was co-hosted by "Architectural Digest," and featured an original Thierry François design the "Marie-Antoinette." The entire Collection of award winning designer can be seen at François & Co at http://www.francoisandco.com.
The "Marie-Antoinette," is just one fireplace mantel, and an original design of Thierry François who founded the company in 1998. Today François & Co. is a premiere source for Hand-Carved Limestone fireplace mantels, stone fireplace mantels, fine Hand-Crafted Scagliola Stone™, Bathtubs, Stone Kitchen Hoods, and Architectural Accents.
The new Los Angeles Showroom features several Hand-Carved Limestone Fireplace Mantels, and unique Fireplace Mantels in Scagliola Stone™. The François and Co. Showroom also features two Baroque Consoles with Marble-Tops, and a set of antique chairs covered in damask that are complement beautifully the French-inspired stone mantels. "It demonstrates François & Co.'s commitment to showing its products in a fashionable setting" explains Jean-Christophe Pandolfi, Director of Sales.
Earlier this year, François & Co. introduced the "Heritage Collection," that includes a new line of Limestone Fireplace Mantels. The "Heritage" collection is comprised of exceptional antique fireplace mantels purchased in France. Each of these masterpieces has a history of its own. The fine artisans of François & Co. then bring each piece to vibrant life by meticulously carving a mirror image, perfect down to the tiniest detail. Each resulting replica is available in hand-carved limestone or Scagliola Stone™. The Heritage Collection fireplace mantels emulate the appearance and preserve the legacy of original masterpieces, thus providing a true sense of history and timeless beauty to any modern home.
The new Showroom also showcases - in a French inspired décor - several Scagliola Stone™ fireplace mantels. As rich in texture as it is in history, Scagliola is a technique developed by impoverished Italian monks in the 17th Century to restore their monastery. It is the art of mixing together chips of stone (Scaglia in Italian), stabilizing agents and pigments, and layering the mixture by hand to achieve a material indistinguishable from natural stone. The precision and intricate detail possible with this method is truly astonishing. The Scagliola Stone™ is a noble, authentic alternative to lesser cast stone and concrete products. The François & Co. hand-made Scagliola Stone™ fireplace mantels feature intricate details, impossible to achieve with cast stone or lightweight concrete.
Visit the Showrooms of François & Co. in Atlanta, Orlando, Charlotte, and now in Los Angeles, California or visit online and see each one of the original Collections.
About François & Co.
François & Co. is the parent company of Stone Age Designs which opened in Atlanta in 1998. Since then, the Atlanta-based Company has developed a stellar reputation for its fine Hand-Carved Limestone Fireplace Mantels and fine Hand-Crafted Scagliola Stone™ Fireplace Mantels, Kitchen Hoods, Bathtubs, and Architectural Accents.
The fireplace designs of François & Co. have become well known and respected amongst homeowners, as well as with Interior Designers and in the Architectural and Builder Communities.
In addition to its 9,000-square-foot Showroom and Headquarters in Atlanta, François and Co. has Showrooms in Orlando - Winter Park, Florida, Charlotte, North Carolina, and in Los Angeles - West Hollywood, California. You may contact François & Co. at 1-866-385-9486 or visit them online at http://www.francoisandco.com/
Kathee Austin
(480) 998-0246
###