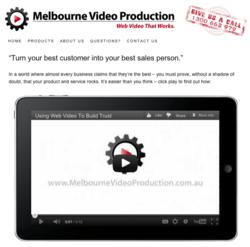 The key thing to remember is, if you have your viewer's best interest in mind, you will make an amazing web video ad
Melbourne, Victoria (PRWEB) November 06, 2012
On 24 October 2012, YouTube blogged the findings from the TED Ads Worth Spreading report, advising that the world of advertising online has changed for good, and for the better. Advertisers must now focus more on provoking thought in ads, rather than the sales pitch. This shift has created a large demand for custom web videos at an Australian-based video services company, Melbourne Video Productions, who's owner David Jenyns says, "By creating interesting and content rich web videos, you create an advertisement viewers actually want to watch and share."
There was once a time when advertising had captive audiences unable to switch channels without getting off the couch to turn the dial. But now, those same viewers have the internet, smartphones, and tablets, all of which can give an ad the flick with a simple tap of a finger. Today's age of empowered consumers has created the need for advertisers to re-think how they go about reaching their audiences.
"I've always said content must be end-user friendly," states David Jenyns, web video expert and owner of Melbourne Video Production, "whether it's on your menu, your website or on a web video ad – if you have your audience's interest in mind, you'll be a success."
Ads are no longer just about branding and driving sales. According to YouTube and TED Ads Worth Spreading initiative, ad must now go deeper than the surface and inspire the viewer. This has created a new generation of advertisements whereby consumers actually want to watch ads, which is the complete opposite to viewer habits of the past.
"I can't stress this enough, ads must be worth watching," continues David, "They have to be inspirational, fun, or truly informative. People can simply stop your ad now, so if a web video is going to be successful, it must draw its audience in."
"What's further interesting about the YouTube and TED initiative is that it backs up what I've always told my clients," remarks David, "Instead of forcing sales pitches on consumers, simply customize web videos to provide deeper, more meaningful content. That makes people want to watch and share, and there's where the real advertising kicks in."
"Since the YouTube and TED initiative reports were posted," says David, "we've received a higher than usual demand for custom web videos, from both existing and new clients."
David goes on to say that creating meaningful web video ads isn't difficult or expensive, and that even novices can do it themselves. "There are a lot of amazing ads out there, like Coca-Cola's 'Unlock the 007 in You', but not everyone has that kind of massive budget. The key thing to remember is, if you have your viewer's best interest in mind, you will make an amazing web video ad."
To find out more about customized web video services in Melbourne, just click here.
About Melbourne Video Production
Melbourne Video Production is a division of MelbourneSEOServices.com, a full service search engine optimization (SEO) consultancy, based in Australia, but with a worldwide client base.
Melbourne Video Production has the unique ability to combine their web video expertise with strategic SEO practices from Melbourne SEO.
Director, David Jenyns, has, over several years, built a team of experts who are niche experts to support the business, and who share his ethos for ethical, professional internet marketing and web video.