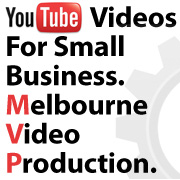 Web video is for any size and any type of business. If a business is online, it needs web video
Melbourne, Australia (PRWEB) May 05, 2013
The Australian custom web video company Melbourne Video Production has just unveiled the first of a five-part series for natural pet food business Foodie Pooch. The video exposes the truth behind what really goes into mass market pet foods and how it can adversely affect an animal's wellbeing. "Our main challenge with this video was bringing to light the fact that most pets' diets are just as important as their owners," comments video expert and owner of Melbourne Video Production Mr. David Jenyns "We believe viewers will be surprised by what they learn and make the right steps to improve their pet's dietary health."
It's no secret western cultures love their pets. With upscale grooming salons, sparkling gemstone collars and over-sized feather beds, one would think dogs and cats live in the lap of luxury. Even with all this pampering going on, many pet owners are unwittingly unaware of what's exactly in the food bowl for their furry friends.
The very passionate small animal nutritionist and owner of Foodie Pooch approached Melbourne Video Production to create a custom web video series to expose what's really in mass market pet food and how it can negatively affect the health of household pets.
The natural pet food company is also located in the metro Melbourne area, "We love working with local businesses, especially those like Foodie Pooch who have an important message to get across" says Mr. Jenyns, "helping small businesses in their quest to enlighten others with web video is what we're all about."
The experienced video services company was commissioned to create a series of five videos, with the first focusing on what really goes into most of the pet food available on supermarket shelves. And to ensure the viewers trust the information provided in the video as accurate "it was natural to get the Foodie Pooch owner, who's also a small animal nutritionist, to present the information."
The video production's team also had the big task of making sure Foodie Pooch's message didn't get lost in technical jargon or complicated explanations. Mr. Jenyns's crew ensured both the scripting and editing was kept simple. "Bringing new information to the public is hard enough as it is, we didn't want to confuse the viewer with complex terminology or fancy visuals. Our goal was to keep it simple and visually pleasing, that way the audience will definitely get it."
The end result of Melbourne Video Production's day long shoot resulted in a custom web video conveying the fact many well-loved animals are actually lacking the nutrition they need because of the pet food they're given. "The videos are definitely compelling, so much so, that even some of our own staff have decided to make the food switch for their pets" comments Mr. Jenyns.
The first of Foodie Pooch's educational videos has just been released on the video service company's website, with the additional ones to be released in the near future. "Using web video is the best way to get an important message like Foodie Pooch's across," says Mr. Jenyns, "It's so much easier to learn something new by watching a quick video."
To view the recently launched Foodie Pooch video about what really goes into standard pet food, click here. Mr. Jenyns closes by saying that "web video is for any size and any type of business. If a business is online, it needs web video."
The team at Melbourne Video Production offers a variety of web video packages for businesses, as well as various studio hire options. Visit http://www.melbournevideoproduction.com.au/video-production-in-melbourne/custom-web-videos/ to learn more about their custom video services.
About Melbourne Video Production
Melbourne Video Production is a division of MelbourneSEOServices.com, a full service search engine optimization (SEO) consultancy, based in Australia, but with a worldwide client base.
Melbourne Video Production has the unique ability to combine their web video expertise with strategic SEO practices from Melbourne SEO.
Director, David Jenyns, has, over several years, built a team of experts who are niche experts to support the business, and who share his ethos for ethical, professional internet marketing and web video.