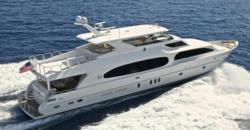 The demand for mega-yachts is at a fever pitch
Miami, Florida (PRWEB) April 16, 2013
With the explosion of popularity in custom mega-yachts, StylishYachts.com is meeting the demand with resources for custom built yachts, sales and leasing in Southern California, South Florida and Greater New England.
High net worth families and billionaires are spending more money than ever before on building custom mega-yachts, and now it seems like the race for the world's biggest yacht has reached a fever pitch. It's been reported that Steven Spielberg's yacht is valued at $200,000,000. Then, in 2010, billionaire Andrey Melnichenko spent a massive $300,000,000 on his yacht – which is nearly 400 feet long. Now there is a new record holder: a German company has just launched a mega-yacht that is nearly 600 feet long and now holds the record for the world's most expensive yacht. Other famous contenders exist, too, like that of the late Steve Jobs.
One of the major challenges when buying super-yachts is having them maintained and staffed, and Stylish Yachts also provides resources for brokers and agents. Years ago, staffing yachts was much simpler, but now these luxury floating palaces come with a variety of extras: speed boats, jet skis, wave runners, helicopter landing pads, game rooms with casinos, jacuzzis, skeet shooting and even personal assistants to cater to the whim of the celebrities that own them.
Yacht sales and leasing has become quite competitive in the United States. Some of the strong markets include Southern California (Los Angeles, Long Beach, Orange County, and San Diego); South Florida (Key Islands, Miami, Ft. Lauderdale, and West Palm Beach); and of course the Greater New England area – namely the Hamptons, Wall Street and Newport crowds. Having access to a luxury yacht for your summer beach home is just another wanted status symbol.
While many high net worth families and billionaires have a love for boating, many don't have the desire to own a yacht, so yacht charters – especially for vacations – have become quite popular. Many quality companies rent boats year-round, and StylishYachts.com also has resources for adventure seekers throughout the country. One popular excursion in South Florida, for example, is to charter a yacht to the Virgin Islands, Puerto Rico or the Bahamas. Not only is the fishing world-class, but the clear blue ocean and outstanding weather draws jet-set crowds from around the world.
For more information on yacht builders, charters and sales visit http://www.StylishYachts.com