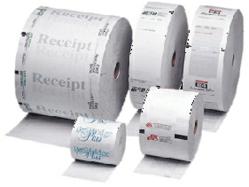 As an added incentive, POS Supply will provide a concept proof free of charge and with no obligation to buy.
Danvers, MA (PRWEB) May 12, 2011
POS Supply Solutions, Inc. (POS Supply) offers Custom ATM Receipt Paper as part of their complete line of ATM Supplies.
As more and more banking customers are conducting their banking online and opting to enroll in direct deposit with their employer, financial institutions must find new ways of reaching customers outside of their branch locations. Custom ATM receipt paper is the perfect way to cross sell products and services and is one of the most cost-effective marketing vehicles available.
Custom ATM receipt paper enables a bank or financial institution to advertise to their customer every time they visit the ATM. Many ATM users keep receipts in their wallets or purses to be recorded at a later date, therefore the receipt may be viewed several times. Marketing messages such as special incentives, promotional vouchers and financial product information can be printed directly on the back of the receipt. In addition, adding a website to the receipt will allow another opportunity to cross-sell and drive website traffic.
"Our custom ATM receipt paper delivers a high quality image that helps build brand awareness," said POS Supply's President Stephen Enfield. "As an added incentive, POS Supply will provide a concept proof free of charge and with no obligation to buy."
POS Supply offers a complete line of ATM receipt paper for use in all major ATM's on the market today including Diebold, NCR, Triton, Tidel, Tranax, Fujitsu, Nautilus Hyosung and many more. Choose from options that include bond or thermal paper, sense marks as well as single and multi-color print options. Custom orders start at as little as five cases.
All POS Supply paper roll products are designed to deliver high performance and compatibility in all ATM terminals while minimizing the user's total cost of ownership. Customers can order ATM receipt paper from POS Supply Solutions with total confidence that they are receiving premium quality products at a great price.
About POS Supply Solutions
POS Supply Solutions provides point of sale and transaction supply solutions, serving a full spectrum of hospitality, retail, financial, gas station, medical, wireless and business transaction applications. Established in 1999, POS Supply Solutions' corporate facility is located in Danvers, MA with distribution warehouses strategically located across the United States. Over the past 11 years, POS Supply Solutions has worked with thousands of individuals and companies to ensure they receive the point of sale supplies needed for successful and efficient business operations.
Contact:
Alethea Copelas
Product Marketing Specialist
POS Supply Solutions
(978) 406-4230
acopelas(at)possupply(dot)com
http://www.possupply.com
# # #