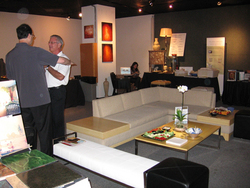 So we began to research products such as soy foam, water-based frame glues and wood stains and jute webbing.
Los Angeles, CA (PRWEB) April 28, 2009
Taking the lead in creating furnishings that are more environmentally friendly, The Sofa Company has created a new line of sofas that let customers decide just how "green" their furniture should be.
Called the "Complete Green" program, the program offers three different levels of green furnishings product. The "Standard" level offers such eco-friendly details as a Forest Stewardship Council (FSC) certified pine frames, recycled steel legs, eco fabrics and water-based glues. All products sold by The Sofa Company meet this level of commitment to the environment, said Nick Ostroff, co-owner of The Sofa Company.
From there, customers can go "Complete Green" which adds such sustainable materials as jute webbing in the sofa decking, cotton padding, cotton back pillow fill and soy-based foam seats to their order. A third option, "& More", adds options such as an FSC certified alder frame, latex foam seats, natural down and bamboo accents and base.
"We began to realize that our customers were increasingly becoming committed to the 'green furniture movement'," said Ostroff. "So we began to research products such as soy foam, water-based frame glues and wood stains and jute webbing."
"Soy foam is one of the best examples of putting a new eco-friendly spin on a traditionally petroleum-based product. With soy foam cushions, a percentage of the petroleum materials is substituted with raw materials derived from soybeans. The resulting product is not only healthier for customers and the environment, but offers a more consistent seating experience," said Ostroff.
The new line of furniture products will be debuted at the HD Expo May 14-16 in Las Vegas. Customers will also be able to see the new green furniture products in the company's showrooms in Pasadena, Santa Monica and its headquarters and factory in Los Angeles.
Orders can also place placed online at The Sofa Company - Green Custom Furniture.
About The Sofa Company:
Founded by three college friends - Jim Hwang, Peter Lien and Nick Ostroff - The Sofa Company opened for business in 1998 as a furniture clearance center for a sofa factory. Today, the company employs 30 employees in its headquarters and factory, as well as sales staff in its Downtown Los Angeles, Pasadena and Santa Monica showrooms. Their "You design it, we build it" motto describes their niche in the furniture market perfectly: manufacturing custom sofas that are designed by the customer as well as offering stock models in a variety of styles and colors.
The company's website is located at: The Sofa Company.
###