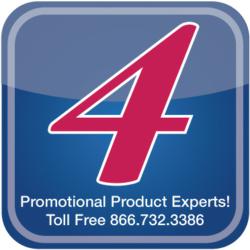 Essex, Ct (PRWEB) October 26, 2011
Halloween is Monday and candy is everywhere. The early winter months can be tough on the waistline but there are some reasons candy is actual good for our health. Candy is also an easy and affordable promotional product for any holiday, event or special occasion. The promotional products company, 4AllPromos has a large selection of chocolate, mints, cookies, jelly beans, lollipops, fortune cookies and other sweet treats and other custom imprinted items that make perfect gifts for customers, clients, family and friends during the upcoming holiday season.
Chocolate is always making headlines because studies have found the popular candy has many different health benefits. Health experts have concluded that eating chocolate two or more times a week can help reduce the risk of strokes, heart attacks or cardiac mortality. Chocolate has also been shown to lower LDL cholesterol, fight cancer, reduce tooth decay and act as a natural antidepressant. The sweet treat contains magnesium to regulate the digestive, neurological and cardiovascular systems, antioxidants to flush out free radicals and ingredients which help produce endorphins that help produce feelings of happiness and pleasure. Dark chocolate is the best type of chocolate when it comes to health benefits because the ingredients are more concentrated. 4AllPromos has a large selection of custom imprinted and molded chocolate treats. Spread the word about the health benefits of chocolate to customers and clients.
Researchers at Louisiana State University have discovered that people who eat fruity candy have a lower body mass index and smaller waists. Of course, it is always important to maintain a well-balanced diet that includes the occasional fruity or chocolaty treat. Jelly beans, gummy bears, gummy worms, sour candies, hard candies and lollipops make great party favors. Custom imprint the name of a business, school, political candidate or non-profit group on the various candy wrappers. Sugar snacks help keep guests, attendees and customers alert. In fact, a study from Coventry University in London says gum actual improves alertness by helping get oxygen to the brain. Custom imprint some gum or candy to keep out on the tables at a conference or seminar, put it in a gift bag at a trade show or just keep it out at a restaurant for an after meal dessert.
Popcorn and pretzel snacks make great giveaways at school and sporting events, fairs and trade shows. Help feed hungry crowds with gourmet snacks like popcorn or chocolate covered pretzels. 4AllPromos has a variety of gourmet snack gift baskets that are perfect to send to the very best customers during the holidays or to promote a new initiative or sale. Popcorn contains fiber and antioxidants and help snackers feel nice and full. Pretzels covered in dark chocolate are also another snack packed with fuel.
Sweet and sugar snacks in moderation have many benefits and who doesn't love to receive candy as a gift? The University School of Medicine in Athens claims their research proved that people who ate four low-calorie desserts a week lost 9 pounds more than those who had one weekly splurge. So, the lesson here is not to deprive one's diet of sweet treats. Everyone could use a little candy this time of year.
4AllPromos is a leading provider of promotional products including custom imprinted tote bags, apparel, drawstring backpacks, pens, calendars and gourmet snacks. To learn more about why candy is a great advertising product, party favor and giveaway call a 4AllPromos product specialist toll-free at 1-866-732-3386 or visit http://www.4allpromos.com
# # #