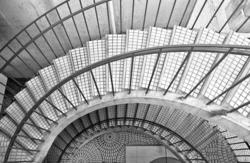 We have been welcomed in San Francisco for 25 years at our original location, and we know we will become part of the community at the new location.
San Francisco, CA (PRWEB) November 03, 2011
On 11/11/11, a date many associate with great fortune, Ritz Jewelers will open its brand-new flagship store at One Embarcadero Center. The celebrated San Francisco designer jewelry store, founded by brothers Khoren and Garen Ekmekjian, is making it more convenient for clients to fall in love with their one-of-a-kind pieces by bringing the treasures closer to their clientele.
For 25 years, jewelry aficionados have trekked over to Ritz Jewelers' original location at 888 Brannon because they know they can find the unique designs and unrivaled quality that define Ritz. The new location, at the corner of Front and Sacramento Streets and adjacent to Peet's Coffee and First Republic Bank, will be much more visible and easier to reach.
Embarcadero Center, which covers five blocks from the waterfront to downtown, is at the top of San Francisco's list of the best destinations for shopping, dining and entertainment. Managed by Boston Properties, Embarcadero Center caters to the refined tastes of the Financial District crowd by housing some of the finest shops in San Francisco.
"Being accepted into the Embarcadero Center by Boston Properties is truly an honor, and we plan to remain a member of this elite community for many years to come," states Khoren, one of the owners of the San Francisco jewelry store. "We have been welcomed in San Francisco for 25 years at our original location, and we know we will become part of the community at the new location."
With the bustling waterfront, thriving Ferry Building market, and seasonal attractions like the Embarcadero Center Holiday Ice Rink, Embarcadero Center is San Francisco's hottest destination.
"Right now, San Francisco's downtown is growing and evolving," explains Khoren. "We see the Ferry Building doing very well, and know the Embarcadero Center is the place to be in San Francisco. We want to be part of the excitement, and that's why we decided to seize this opportunity."
"Ritz Jewelers is not changing, we are growing," states co-owner Garen. "We will not be the textbook retailer; we will continue the professional service at excellent pricing that we have offered for 25 years.
"The impetus to move to the Embarcadero Center is simple: Our clients will have convenient public transportation option, making parking and traveling a non-issue. We want our clients to enjoy a full day of shopping while also enjoying the many festivities held in the area when they come to visit us. The neighborhood is full of happy, fulfilled individuals, and Ritz Jewelers wants to bring more excitement by offering the highest quality of jewels available in San Francisco. We are recognized as a top jewelry store, and we will remain that way."
All are invited to the Grand Opening celebration on 11/11/11. "Come see what has made us a successful local business in San Francisco for 25 years," urges Garen.
For more information about the Ritz Jewelers, call the store at (415) 658-9227 or visit them on the web at http://www.ritzjewelers.com.
About Ritz Jewelers
For 25 years, Ritz Jewelers has been a trusted source of classic, elegant jewelry at excellent prices in San Francisco. Ritz Jewelers is known for creating flexible designs that can be translated from piece to piece so that clients can purchase or modify an individual item—such as an engagement ring—or create or build upon a unique collection. The store is the premier place to purchase loose diamonds and wholesale jewelry in San Francisco.
###